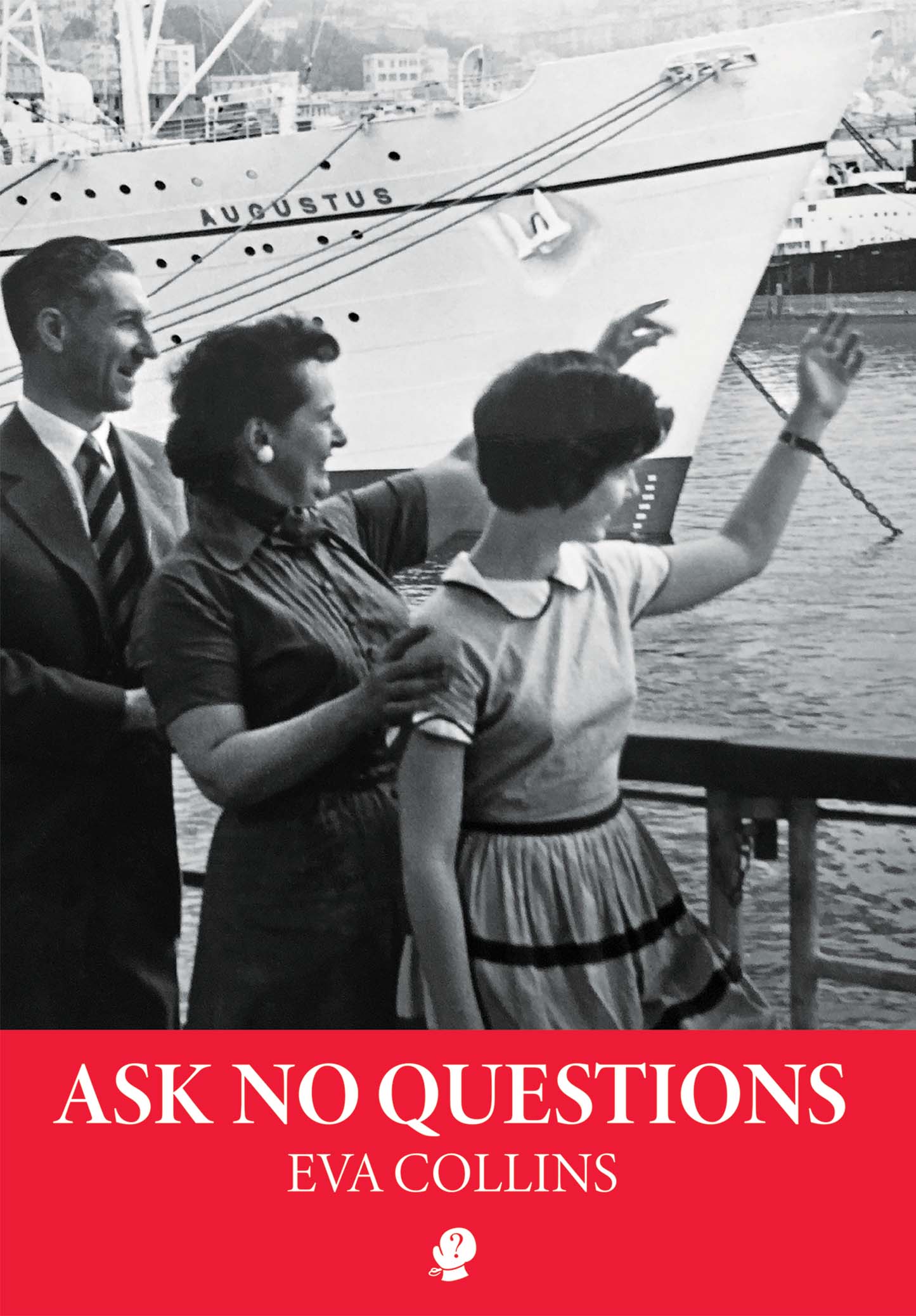 Reviewed by Magdalena Ball
Ask No Questions
By Eva Collins
Puncher & Wattmann
ISBN 9781922571342, June 2022, Paperback, $25
I am very likely biased, but to my mind the poetic form seems perfectly suited to memoir. The innate rhythm, structures, prevalence of metaphor, and somewhat non-linear way of exploring emotion and perception as the primary focus (with action and explication secondary) seems to work well with the unreliability of memory and the piecemeal nature of personal history.  In her memoir, Ask No Questions, Eva Collins handles the conjunction between poetry and memoir well, playing with notions of uncertainty and shift, and allowing the nuances of both forms to inform the other. Ask No Questions traces Eva's migration from Warsaw in 1958 to Australia, when Eva was twelve years old. The book moves in circular progression through her journey to Melbourne, t Eva's coming-of-age, and her eventual return as an adult to her country of birth. The book is quick to read and written in spare poetry that is engaging and accessible without doing an injustice to the complexity of Eva's trauma. 
The title hints at one of the key themes of the book—that of being silenced for the sake of safety. Right from the start, in "Suitcases", Eva sets up the thematic:
I don't know why we are leaving.
My parents tell me to pack my things.
Ask no questions. 
The lack of answers about when, why, and how are coloured by a stealth that forms a rupture. Eva writes from inside that twelve year old's perception exploring a litany of loss that is both visceral and sensual—the smell of cheesecake and bagels combined with a longing for a place no longer home. Twelve is an age where the child and the adult exist in equal parts, and Eva's parents' fear is coupled with an awareness that childhood is disappearing forever and any return will be built over the rupture, but won't heal it.  Eva keeps returning to this sense of loss, but with perception and humour. Humour is present throughout the book, such as the moment she discovers (at 12!) that her father is Jewish:
Dad—I don't want you to experience anti-Semiitism.
I don't know what that means.
Dad—it means prejudice
against the Jews.
I am Jewish.
Me—Dad, you killed Jesus?
He blinks and shakes his head.
Dear child, I've never even met the man!" ("Austria I") 
In St Kilda, her father changes the family name, dresses like a local, and takes up work as a salesman:
He trudges with his suitcase
bulging with samples
Tablecloths, placemats, tea towels.
Up and down Flinders Land
(In the Schmate District),
To the city wholesalers.
Eva's development in Australia takes place through the senses, from the fragrance of Linden trees in Caufield to the taste of snowflakes on the tongue as well as linguistically. Eva is bullied for her accent, and learns the Aussie vernacular through a neighbour when they bring him tomatoes from the veggie patch: 
…Good onya, love.
We wonder if he's been drinking.
Why would he call the tomato an onion.
The narrative flow is punctuated by moments of nostalgia—memories of school in Warsaw, building a snowman in winter, or the inexplicable sound of static on a radio broadcast.  Eva's ache for her former home—this deep sense of disconnection with the past–is mirrored by her mother's growing depression and addiction. In the mid sixties, Eva goes back to Poland to try and find the many friends, foods, and places she has lost, and she does find much of what she remembers: fluffy cheesecakes, Borscht, Pierogi with Dill, and her old friends. There is catharsis and recognition in the homecoming. The wounds don't heal, but the rediscovery of her parents' old haunts, the light and sounds and the delicate threads that Eva weaves between her parents, her new life, and the person she was, is are handled with subtlety:
Now you wait alone
on a sunbaked street
for the slow tram to
take you from the sleepy suburbs
to the City where there are voices 
But it's impossible to really go back. There is a tension between old and new that remains a keynote throughout the book. Learning to accept the duality of her nationality, Eva reclaims her old self and her old name and transforms it into a unique hybrid. Ask No Questions is a book that explores serious topics. The trauma and sadness of the refugee experience is rarely covered through the viewpoint of a child, and Eva teases out that perspective with poetic delicacy, tracing the way in which this perception changes through time. While often sad, Ask No Questions is unpretentious and moving.