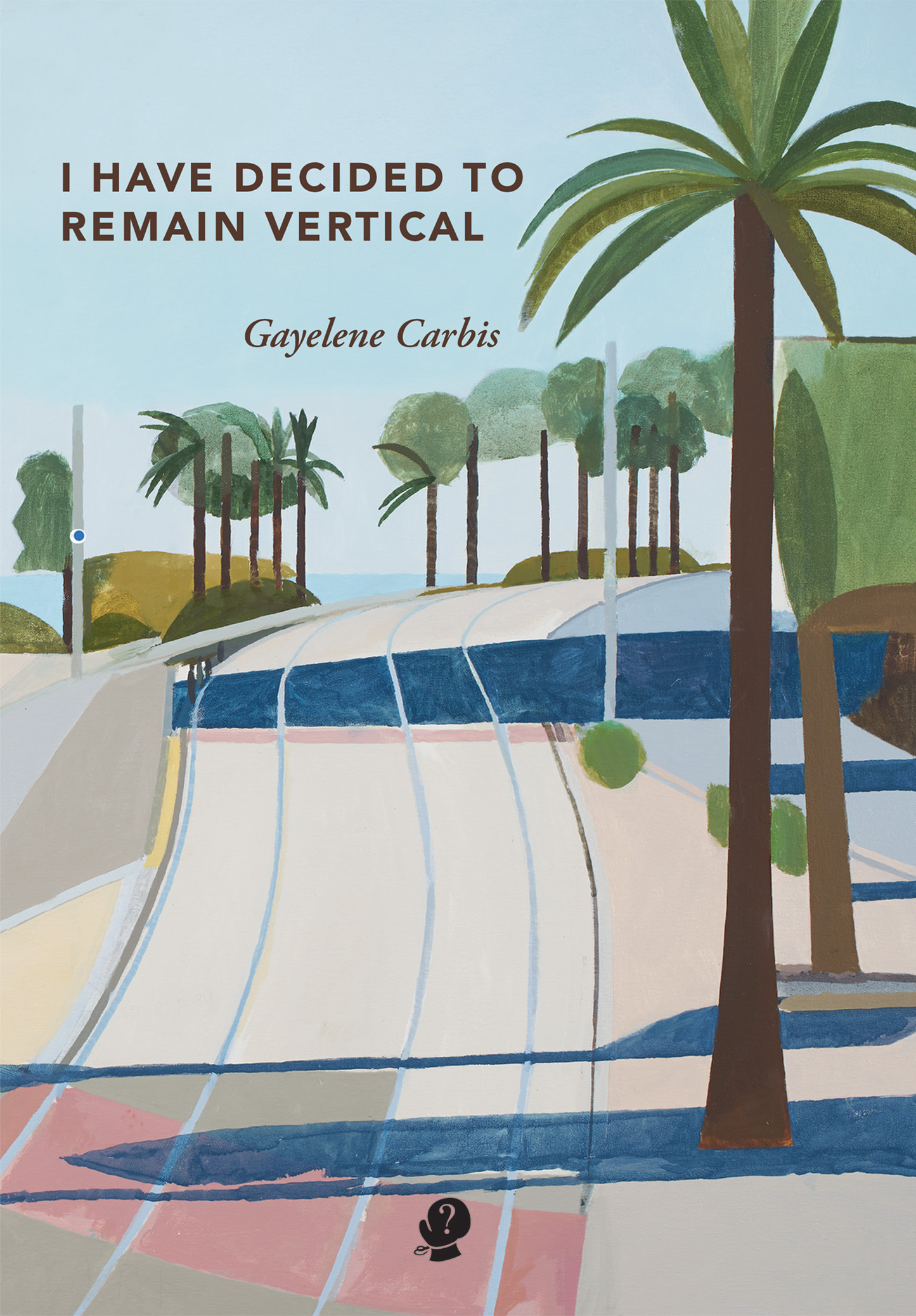 Reviewed by Beatriz Copello
I Have Decided to Remain Vertical
by Gayelene Carbis
Puncher & Wattmann
ISBN: 978122571489, Sept 22, Paperback
Gayelene Carbis is a well-known award-winning writer of poetry, prose and plays. I Have Decided to Remain Vertical is her second book of poetry. I Have Decided to Remain Vertical is unlike any other book of poetry that I have ever read. The first thing that impressed me is that the poet dedicated the book to two well-known poets, poets I had the pleasure to meet: Judith Rodriguez and Ania Walwicz. The second thing is the assured way in which Carbis is able to use the narrative form, especially dialogue combined with poetic imagery and descriptions to tell a story. An old literature professor I once had used to say, regarding the writing of poetry, "Don't use the I", "Don't talk about feelings", "Don't be personal", "Don't use dialogue in poetry". In I Have Decided to Remain Vertical Carbis breaks every rule, and the result is magnificent (he also used to say don't use superlative words).
Carbis's poetry entertains, it makes you think, it allows the reader to see that other people go through life battling similar issues about relationships with family, lovers, or friends, the everyday and the mundane. All of life's struggles are here.
I Have Decided to Remain Vertical is divided in three sections "Marrying Freud", "Red Horse by the River" and "The Bride Who Became Frightened When She Saw Life Opened".In "Marrying Freud" Carbis explores personal relationships, anecdotes with a lot of feelings, some sad others very funny. For example, in a narrative titled "Our House" Carbis tells us what went on in the house, but the poem is really about the love-hate relationship between mother and daughter, something many readers will understand.  Her family (real or imagined) also appears in the book, like her relationship with her brother and particularly her father. These relationships form a thread throughout all of the sections sections of the book.
As someone who grew up in a religious home, the poem "At a Bus Station in Calgary" particularly touched me. Carbis cleverly and precisely describes religious indoctrination:
When I was young and empty*
I did not know I was under fed
I thought my mother filled me with food
and her sustenance gave me life:
They poured Christ into my mind
and I become a vessel
so full, I could not think
or feel:
I took in everything around me
like bread soaked in vinegar, or wine
I did not know the blood of Christ was bitter,
that wrung through,
I'd be dry.

*After a line from a poem by Galway Kinnel, "The Still Time"
This section contains a number of conversational narratives with strong visuals that capture feelings and events that could happen to anyone. These are rich with verisimilitude and touching, including a mother's Cancer, half-time relationships and family issues.
The section "Red Horse by the River" has a wide variety of poetry styles, some poetic narratives and some that feel very much like stories. The issues dealt in this section are varied, including cross-cultural and religious issues in relationships, failed love affairs, and the nature of home. Carbis breaks literary rules like a pro, creating work that is humorous and pithy. Her work also has power. The following is a poignant poem titled "Writing Companion" Companion, from Latin 'sharer of bread: for Alicia Sometimes
She asked if
we should swap
words but I'd already
grown attached.
How quick
the hand holds on
to gunmetal and red
how soon
the heart says pretty
and opens then
clasps.  The taste of
sounds on the tongue,
the sharp tang
of consonants,
how the vowels curl.
The third section of the book "The Bride Who Became Frightened When She Saw Life Opened" is written in similar style as the previous sections, here the poet also explores failed relationships, memories, waiting for a call that never comes, a lover that leaves and two ekphrastic poems. Reading I Have Decided to Remain Vertical was real treat, I could not put the book down. The poems drew me in repeatedly. Highly recommended.
About the reviewer: Dr Beatriz Copello is an award-winning poet who writes poetry, fiction, poetry reviews and plays. The author's books are: Women Souls and Shadows, Meditations At the Edge of a Dream, Under the Gums Long Shade, Forbidden Steps Under the Wisteria, A Call to the Stars translated and published in China and Taiwan, Witches Women and Words, Renacer en Azul and  Lo Irrevocable del Halcon (In Spanish). Copello's poetry has been published in literary journals such as Southerly and Australian Women's Book Review and in many feminist publications. Copello is mentioned amongst the forty "most notable people" graduated from the University of Technology, Sydney.