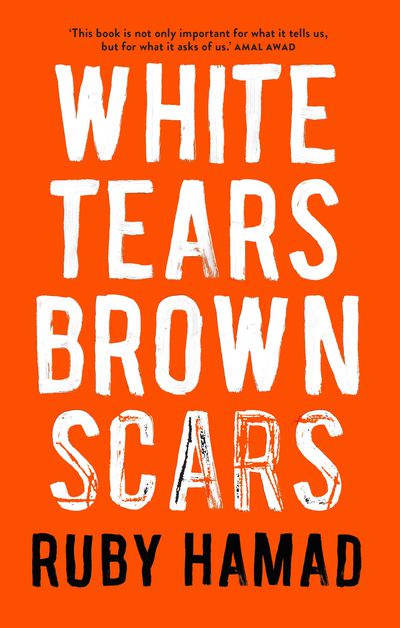 Reviewed by Morgan Bell
White Tears/Brown Scars
by Ruby Hamad
Melbourne University press
Paperback, 3 Sept 2019, ISBN 9780522875584
White Western society's unspoken but most binding rule: 'Don't challenge or acknowledge implicit racial bias.' A close second: 'Only white damsels can be in distress.' Toxic femininity can involve the weaponization of white women's tears. A white woman will often lean into her racial privilege by turning on the tears and feigning distress to end or win an argument. It is a behaviour that happens between men and women, men respond to women's grievances by acting mystified and claiming the whole situation is due to unprovoked hysteria. It is a way for a bully to turn the tables, re-framing themselves as 'the real victim.'
This is the central thesis of Ruby Hamad's new book White Tears / Brown Scars. The seed of this book began as a Guardian Australia article by Hamad entitled 'How white women use strategic tears to silence women of colour' (2018). It is the story of the Twitter furore and solidarity that followed. But it is so much more. It is an origin-story of how pernicious stereotyping continues the haunt black, brown, Asian, and indigenous women in their workplaces and personal lives to this day.
It is a story told in two parts: The Set-Up, and The Pay-Off. The first part is a chronicle of many negative tropes about women of colour over the ages. The second part is a snapshot of the current political and cultural climate, exploring Australian media attitudes towards the Stolen Generation, and the Middle East, as well as the concepts of cultural appropriation, passing as white, and the 'colourism' between lighter and darker skinned people of colour. It then reaches an inspiring Conclusion chapter called 'The Turnaround.'
It is impossible to do a quick skim of this material. You are pulled into each page with the bizarre historical racism of from real life. Did you know in Australia white men with a fetish for raping black women were considered 'gin jockeys' or 'burnt corks'? Hamad's research unearthed some disturbing racist statements from Gustave Flaubert and Henry Lawson, and some white supremacist quotes from leaders of the suffragette movement. It also compares the 1,250 years of the Trans-Saharan slave trade with the 300 years of the Trans-Atlantic slave trade and posits why the conditions became so particularly heinous.
It is the pop-culture references that make this book something anybody can read. The Hunger Games' race-debate is used to highlight that the default picture of innocence is always blonde for many people. Hamad touches on controversies around black Annie, Nagini from the Harry Potter universe, The Handmaid's Tale, 12 Years A Slave, Wonder Woman, Aladdin, and Dr Who. She examines the televised confirmation hearings of US Supreme Court candidate Brett Kavanaugh amid sexual assault allegations.
Hamad's deep-dive into history includes a look at the Spicy Sexpot trope for Latina women. She speaks to real Latina women who are affected by societal expectations that they will be Eva Longoria in Desperate Housewives or Sofia Vergara in Modern Family. Hot-blooded, objectified, passionate, angry, and wild as spitfire. The chapter puts this trope in context with both the 2018 rise to congress of 'Angry Brown Woman' Alexandria Ocasio-Cortez, and the effects of President Roosevelt's 1933 Good Neighbour Policy in cementing a caricature like Carmen Miranda 'the lady in the tutti frutti hat' into white imaginations.
We learn the real Pocahontas was only ten years old, kidnapped, held captive, and subject to a name-change. This busts the myth of the Princess attracted to the white man. A trope echoed in films like the 1950 James Stewart western Broken Arrow. But read the full chapter to find out why that myth exists. And where the contrasting dumpy, nameless Squaw trope comes from. Hint: it was used by white fur trappers and translates to 'vagina.' The truth is a thing of horror.
We learn that the China Doll trope of the adoring, submissive, and sacrificing Asian woman is a myth constructed by media. It featured in Puccini's opera Madama Butterfly – which was updated to the Miss Saigon musical – and Hamad draws a direct line to how it continues to manifest itself in material like the Weezer album Pinkerton, singing about trapping a beautiful butterfly in a Mason jar and leaving it to die of neglect. On the other end of the Asian-stereotype spectrum is the Dragon Lady trope (an anti-China Doll). She is deceptive, cunning, malicious, and discards her sexual prey. Think Lucy Liu in Ally McBeal. Hamad reveals this trope harkens back to the 'Yellow Peril' anxiety of the Victorian era. It creates a dichotomy where an Asian woman must either be submissive or evil.
We learn that 'Black Peril' moral panic was a way of scaring white women into remaining financially dependent on white men. It was a protection racket. The obsession with protecting white women from the threat of being raped by black men – a threat almost non-existent in colonial times – still permeates our society today. Hamad works her way through actual historical court cases where the verdicts and imposed sentences for rape differed based on the race of the perpetrator and the race of the victim.
We learn the 'black women as promiscuous' trope developed from slave-owners purchasing women as 'breeding stock' to be raped at will with the added bonus of creating more slaves. Hamad explains there is a long history of systematic dehumanisation and hypersexualisation of black women. Conversely, tropes like the Mammy, a neutral and asexual black woman, are exemplified by Hattie McDaniel in Gone With The Wind. And the masculinised shrew Aunt Sapphire character emerged from the 1920s radio program Amos N Andy, and continues in the trope of the Sassy Black Sidekick.
Hamad started on this journey due to her words being routinely misinterpreted. Ingrained perceptions of ethnicity clouded the actual meaning of things she said. When recounting these mix-ups and conflicts, she was usually met with disbelief and denial. It's a situation that makes many women of colour feel like they are taking crazy pills.
Hamad spoke with more than two dozen women from across the Western world and found she was not alone in her experiences. In her book she manages to contextualise how these imbalances in tone-perception came about. She lays bare the results of colonialism. She says in her Acknowledgements, to all the women of colour who have been erased and undermined, "I see you, I hear you, I am you," and "so let's shake the damn table—let's wake the world."
There is a lot to digest here. It is a valuable learning experience delivered in the voice of a familiar friend. A friend gently blowing your mind with a whole new perspective. Wake up. Listen. Learn. Be engrossed.
About the reviewer: Morgan Bell is a Port Stephens author of short fiction. Her books include Sniggerless Boundulations, Laissez Faire, and Intersection Control: Collected Works. She is a qualified technical writer, creative writing teacher, and editor of Sproutlings: A Compendium of Little Fictions. Her chapbook of concrete poetry is Idiomatic, For The People.