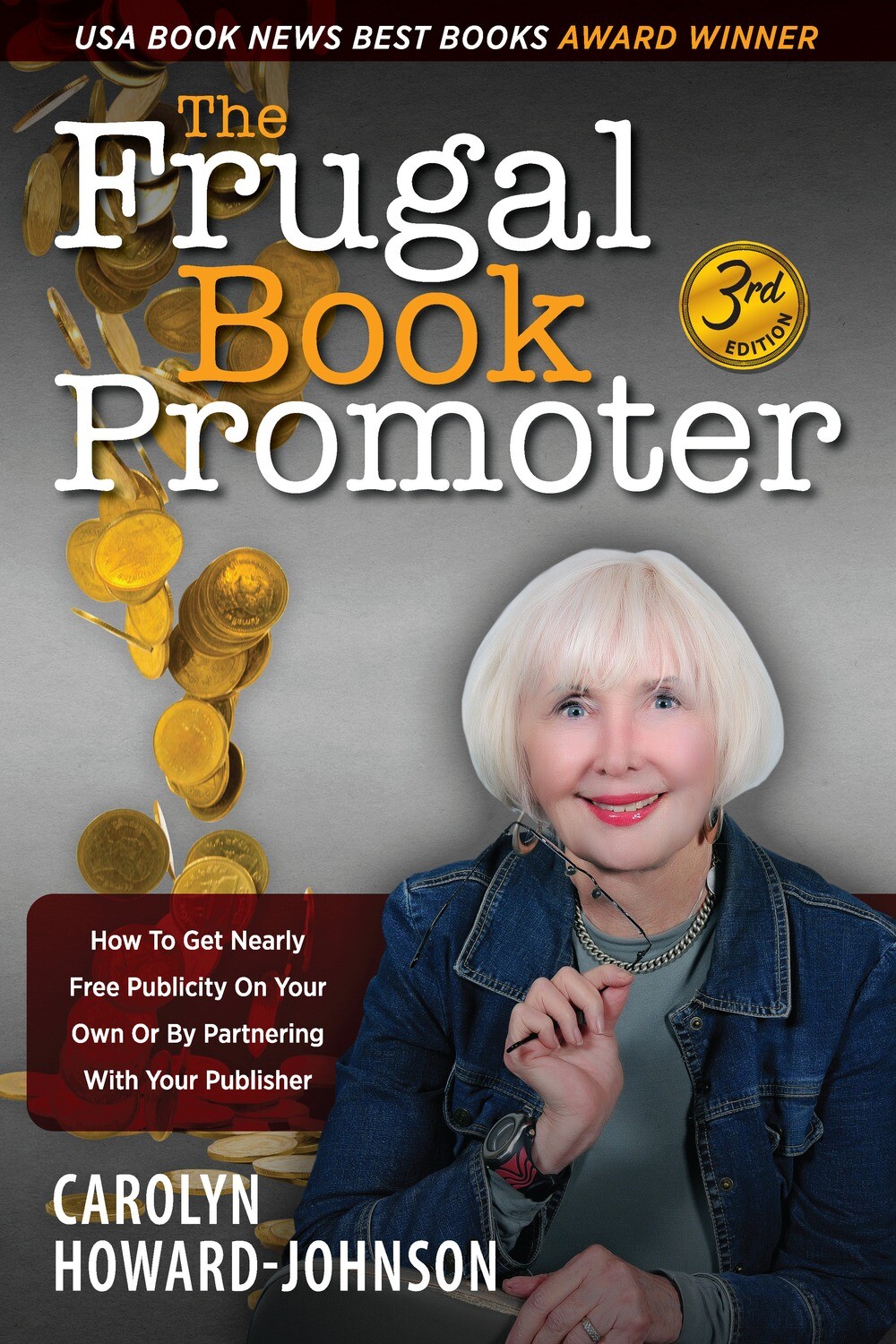 Reviewed by Magdalena Ball
The Frugal Book Promoter:
How to get nearly free publicity on your own or partnering with your publisher
3rd Edition
By Carolyn Howard-Johnson
Modern History Press
2019, ISBN: 9781615994700,
I first read, and reviewed Carolyn Howard-Johnson's The Frugal Book Promoter in 2011, when the first edition came out. Since then it has been my go-to for ideas on ways to promote my books cheaply – which is, of course, what every author needs these days. It's a noisy world, and no matter how well-written, or what kind of publisher support you may have, if you don't promote well, it's unlikely that your books will attract notice. Few of us have big budgets for promotion, and most of us have a budget close to zero. Creative and effective ideas for book promotion are more than just nice-to-haves, they're critical, and Howard-Johnson is about as knowledgeable as it gets on the subject. Of course books like this go out of date quickly, so the re-releases are also vital, as they allow for technological and cultural change. The 3rd edition came out in September 2019, and is right up-to-the-minute, exploring new ways of branding, developing a platform, and getting your work out into the world. Howard-Johnson's prose remains utterly clear, accessible, and warm–like having a very helpful, clued-up conversation with your best friend–and the book is as inspirational as it is practical.
The latest version of the book contains nearly 300 pages (quite a lot more than the first edition!) of high quality information on every thing from how to promote your work ethically, public relations, creating media releases and a media kit, querying for reviews (and believe me, this is a much needed skill!), making use of radio and other media, using the internet and social media (and how not to use it), including ensuring that you use online bookstores correctly, making the most of reading groups, revitalising old titles, recycling your work, and so much more. As with the original version, the book comes with a number of handy template, scripts, codes and examples, but these have been updated so that they continue to remain relevant to a modern author. The book is beautifully structured and well indexed, so you can find what you need when you need it fast. Howard-Johnson has created a number of mnemonics to help simplify the overall promotion process:
The Six-P maxim is the one that makes me a nag. The more organized you are, the more you know early on, the earlier you start to practice promotion and publicity magic, the more good it will do for your book. The more you learn the easier it is. And that leads me to the three most important Ps for marketing books. Platform, Publicity, Public Relations.
Throughout the book, there is careful attention paid to ethics, which I love. The Frugal Book Promoter is most certainly not about buying likes, reviews, unsolicited mailings, or manipulating people into purchasing something they don't want. These practices happen all too frequently, and sometimes they work in the short term, but they are unsustainable and no way to manage a lifelong career. Ethical marketing all about relationships, giving people work they will get value from, and working within carefully obtained permissions. It's about creating a brand that people will continue to trust, so you're not just selling one book, but yourself as a person. This kind of work builds on itself and each thing that you do increases the overall messages you're putting out, creating a cumulative effect:
Good PR, of course, is carefully targeted. But mostly PR is connecting with people in a way that makes them feel cared for, and those connections are made—with love and expertise—over and over again. Those are the essentials and they work. Done this way, great publicity becomes great public relations and vice versa.
I won't give away too many of Howard-Johnson's marvellous tips here, but suffice to say that the book is full of them—many of them inventive, and all of them focusing on credibility and multi-tasking – getting impact for your effort. As the title suggests, most of the ideas here are either inexpensive or free, though not without effort. There are a few chapters which are worth the whole cost of the book. These include, to my mind, chapters on querying and pitching–something I repeatedly see done badly—and the chapter on creating a media kit. I have not seen either of these topics covered in such detail, or with such clarity.  Even seasoned self-promoters will learn new things from these chapters. The reviews section too, is particularly thorough, with plenty of current links and samples. There are also lots of tips about what doesn't work and where to save your money, your time, your sanity, and how to best manage your all-important networks–for the long run. Put simply, The Frugal Book Promoter is one of the best all-purpose books for developing a promotional plan for your work that won't break the bank or destroy your relationships. This is a book keeps on providing practical, easy to apply ideas to get your work noticed, and to create a viable, sustainable, ethical platform that will continue to create valuable promotion for authors of all genres.  It's one of those guides that should be on every author's bookshelf.