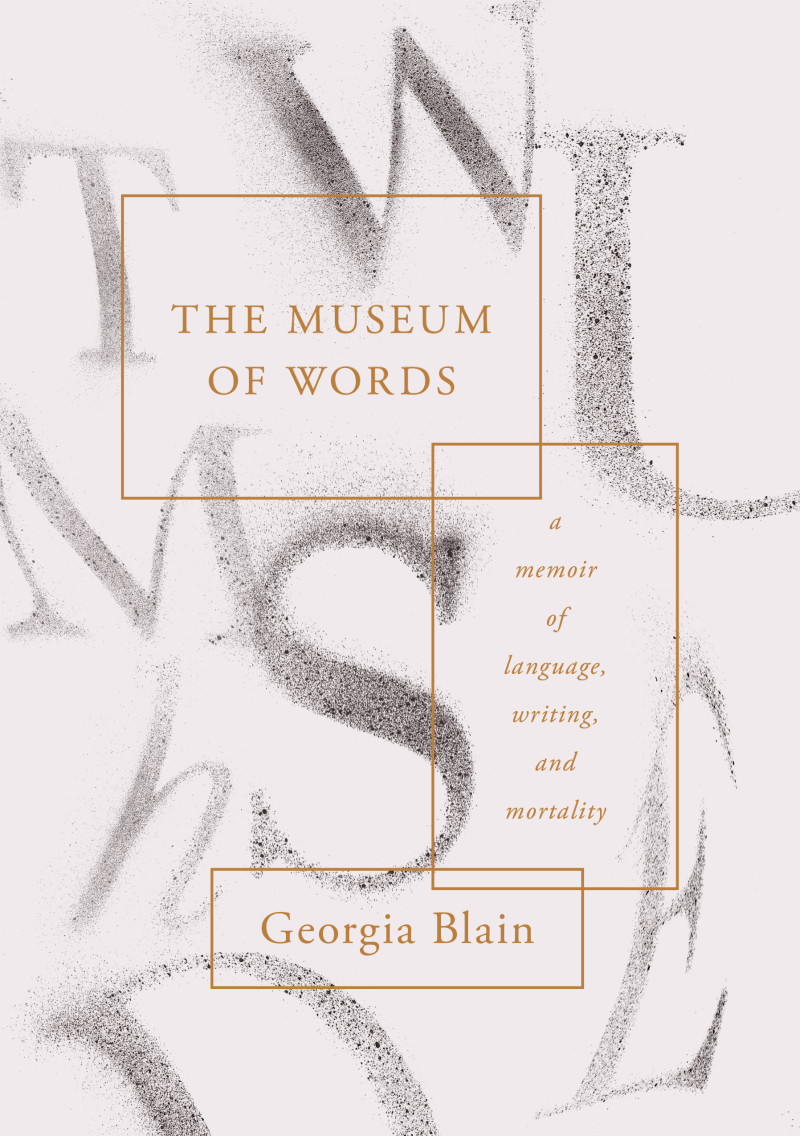 Reviewed by Magdalena Ball
The Museum of Words
By Georgia Blain
Scribe
Hardback, ISBN 13:9781925322255, RRP:$29.99, 28 Aug 2017
In the Spring of 2015, writer Georgia Blain had a seizure that led to her being diagnosed with a brain tumour. The irony of that diagnosis is that Blain's recently published award-winning novel Between a Wolf and a Dog featured a protagonist with a brain tumour. Her best friend and mentor Rosie Scott had  also recently been diagnosed with a brain tumour. Blain's mother, the writer and broadcaster Anne Deveson, had Alzheimers. Not only was life imitating art for Blain, but all of these illnesses struck precisely at the language centre of the brain – the struggle for recovery became a struggle for words. The Museum of Words pivots around these tragedies and tries to make sense of them and the need to find the right words in the face of a growing dysphasia.
Though rooted in the daily, domestic trials of those last months, ultimately The Museum of Words is a thesis around life, and what it means to be alive, knowing, as we all do, that death is imminent. It's also about language and words and what they can do, even as they're being impaired:
It [language] is a blind, unconscious process of transmission that will change from generation to generation. It is a living entity, beautiful, fluid, and so remarkable in its adaptability. (96)
The book begins with Blain noticing something wrong with her speech, a slight slur and an odd forgetfulness that seemed just a bit more than aging. Right from the start, Blain makes the reader her confidante, and draws us in with such light, seemingly effortless prose that we don't realise how much ground is being covered. Blain begins weaving together the threads of her mother's progressing Alzheimer's, her best friend's brain tumour and her own tumour. Blain's admiration and love for her mother, for her friend and mentor Rosie Scott, and for her daughter Odessa, permeate the book and show the interconnectedness of their world and the way in which these relationships charge and create something greater than each of the individuals. Blain presents their lives as an entanglement, language, love and support all working in sync:
I know I'm falling into the trap of telling you about Rosie, rather than showing her to you. If I were teaching students and wanted them to bring a character to life, I would ask them to take her to a fictional supermarket and see what she does in there. An ordinary situation, I would say to the class. You could have her cleaning her house, or on a bus. But let's take her shopping. (111)
The book contains a number of black and white photographs mostly taken by Blain's husband, filmmaker Andrew G Taylor, who also wrote the introduction to the book.  The images are of Blain's mum Anne Deveson, Blain as a child, Blain and Anne together, Blain with Rosie Scott, and with her daughter Odessa. The photos convey Blain's deep intelligence as well as the rich bonds between mothers and daughters, creating a link between these generational ties and punctuating the prose. It seems to me that The Museum of Words is like a series of images that the reader is invited to participate in the making of. While ostensibly the story of Blain's illness, the book contains so much more: a series of permanent moments  where life, what Blain calls "an amorphous mess, a huge soup of detail that we wade our way through" becomes meaningful and transcendent, even triumphant. It's clear from the narrative that these moments come from connection: mother to daughter, partnership, deep friendship, and the gift of language which endures even as it's disintegrating:
I will stretch and reach for the right tenses, the clauses the overarching structure to form a precise but shimmering picture of what I want to represent. (157)
Of course we know the ending of the story – there are no spoilers – and from this side of the fence, it feels tragic. Blain knows that her second seizure, which occurred ten months after the first "on that carpet of lilac and coral-red" – the one colour image presented on the last page, is the beginning of her imminent decline. Her self-awareness is no less heartbreaking for the clear, unsentimental depiction. The Museum of Words is a eulogy, not just to Blain, who died in December 2016, but to her mother Anne who died a few days later and Rosie Scott too, who died within five months of Anne's death. Blain writes about her frustration with plot, and with the shackle of narrative, of cause and effect, and progression. Though most easily measured in months, days, and heartbeats, The Museum of Words is a story about language and how it's able to move between and beyond the constriction of time. At one point, Blain talks about the light coming in – a dawning awareness of the privilege of life.  In this The Museum of Words is a universal story which encompasses all of our frailty and impending demise and encourages all of us to be grateful for the little time we have.