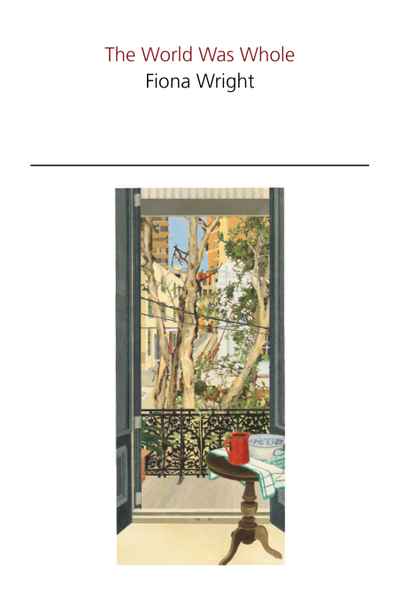 Reviewed by Magdalena Ball
The World Was Whole
By Fiona Wright
Giramondo Publishing
Paperback, Oct 2018, ISBN: 9781925336979, 288pp, AUD$29.95
Fiona Wright's essays are a hybrid of poetry, academic analysis, and sociological exploration that is compulsively readable and deeply resonant. The World Was Whole follows on in time from her first collection Small Acts of Disappearances but it is, in many ways, a very different book. For one thing the book moves away from anorexia as subject matter and into the broader notion of chronic illness, not as something to be healed from, but as a way of living in the world. Wright poses questions around what it means to have a body that is misfiring, malfunctioning, hurting, breaking, and to still function, travel, socialise, and produce art. Illness becomes a state of being which includes periods requiring professional treatment, rather than a transitional state to be healed from. The book contains thirteen essays, many of which been published individually.  Taken collectively, the essays explore the notion of space, place, and home, the grounding power of routines, and the impact of interruption to those routines.
Many of the stories are rooted in an exploration of certain societal tropes around what it means to live a good life, to be good, to succeed.  So much of what we accept as natural is actually deliberately designed by those who benefit from people following a certain trajectory – for example, advertisers. Suburbia is the focus of the first essay "To Run Away from Home", which sets up the key thematics of the book. The Sydney suburb of Menai becomes representative of the suburbs as a whole. Without ever being heavy, Wright explores the concept of 'home' very deeply, both in terms of the place one grew up in, and the body that has a visceral sense of that place with all of the scars – the home one carries:
For those of us who write, for whom inscription is something we do with our bodies rather than something that is simply done to them, the formulation can never be that clear. I don't want to go home. And yet I do. I can't go home, and yet I never left. (19)
Wright is a flâneur, noting her surroundings with the careful eye of a poet even when the settings are places that are visited regularly. There is a delicacy and even a novelty in the perception of the most familiar of scenes with the sensuality of discovery:
So I gather a few friends in a park tucked away on the backstreet of Erskineville, the ground mossy beneath some spindly, leaf-dropping trees, the light as thick as golden syrup. (25)
The domestic remains a key concern of Wright's. This is not what might be construed as 'normal'. The everyday activities of a person dealing with chronic illness are presented as both life-saving and precarious. It doesn't take much to unsettle the balance, break the flow of energy, or create enough nervous tension to cause damage. It might be something as simple as a birthday party, or even the dream of a party, an overseas trip, or a hospital visit. Each of these occasions is momentous more because of the way they break the scaffold of safety than because of the adventures they provide and in this way sublimating the narrative around what it means to be alive and experience the world:
But this is a narrative that also devalues everything that lies on the other side of the equation – the domestic, the homely, the repetitious and the known. The worlds in which we ground ourselves, locate ourselves, build the habits and small rituals that make use feel more comfortable, maybe even safe. The spaces where we may truly be ourselves – our private, unscrutinised and unperformed selves. Our small but significant selves. (146)
Always Wright is careful to situate the personal in the broader intellectual context of art, of science ("The psychologist Peter Freund describes emotions as spatial in their orientation"), and culture.  The digression from routine makes the return all the more precious. Each detail of observation becomes infused with new light – described in such loving richness that drinking a cup of coffee becomes a ritualistic act:
I ordered coffee, real coffee, sweet-bitter and smooth, the cup a deep, mineral grey. Toasted sourdough, bread that was chewy and seedy, not wet and white; I held my handbag on my lap, because it still felt so novel, so pleasurable to be carrying it around (86)
Much of the book reads like a memoir, rooted in snapshots such as teen years spent on the beach in Cronulla, The Cronulla riots, dating, going out with friends, finding an apartment to live in, going out to eat, making food and watching others eat, watching movies, reading poetry, being evicted, finding a new place, travelling to places like Iceland or China, or getting a dog. Wright's landscape is very visual and there is so much tender love for the locale and for the connections that grow within these spaces, that the reader also can't help but fall in love with Sydney's Inner West, especially Newtown, where much of the work is situated.  Though the work is deeply, often intensely personal, Wright is also conscious that she is part of a much broader network, and is a strong advocate for the rights of those with chronic illnesses, the itinerant especially renters, and young people in general who are not able to get the basic services they need. In one of the most harrowing essays, "A Gravity Problem", Wright concedes that her own illness is chronic and ongoing. But instead of self-pity, we have a clear-eyed and powerful examination of the nature of chronic illness and how the modern perception of it as a limitation is damaging:
Fighting as hard as I did for as long as I did was driven in no small part by ideas like this, ideas that devalue any life that isn't unencumbered. I don't have my health, but I also don't have nothing, and the things I do have I have fought hard for, and cherish all the more for that hard fact. And gravity, I keep thinking, may well slow us down, but it also keeps us tethered to the ground. (190-191)
There is so much about the human condition that is illuminated here in these beautifully written pieces.  Wright takes the painful, the personal and the often unbearable frailty of life, and expands it so that the work becomes a celebration of being alive, of human resilience and of the beauty of the everyday.