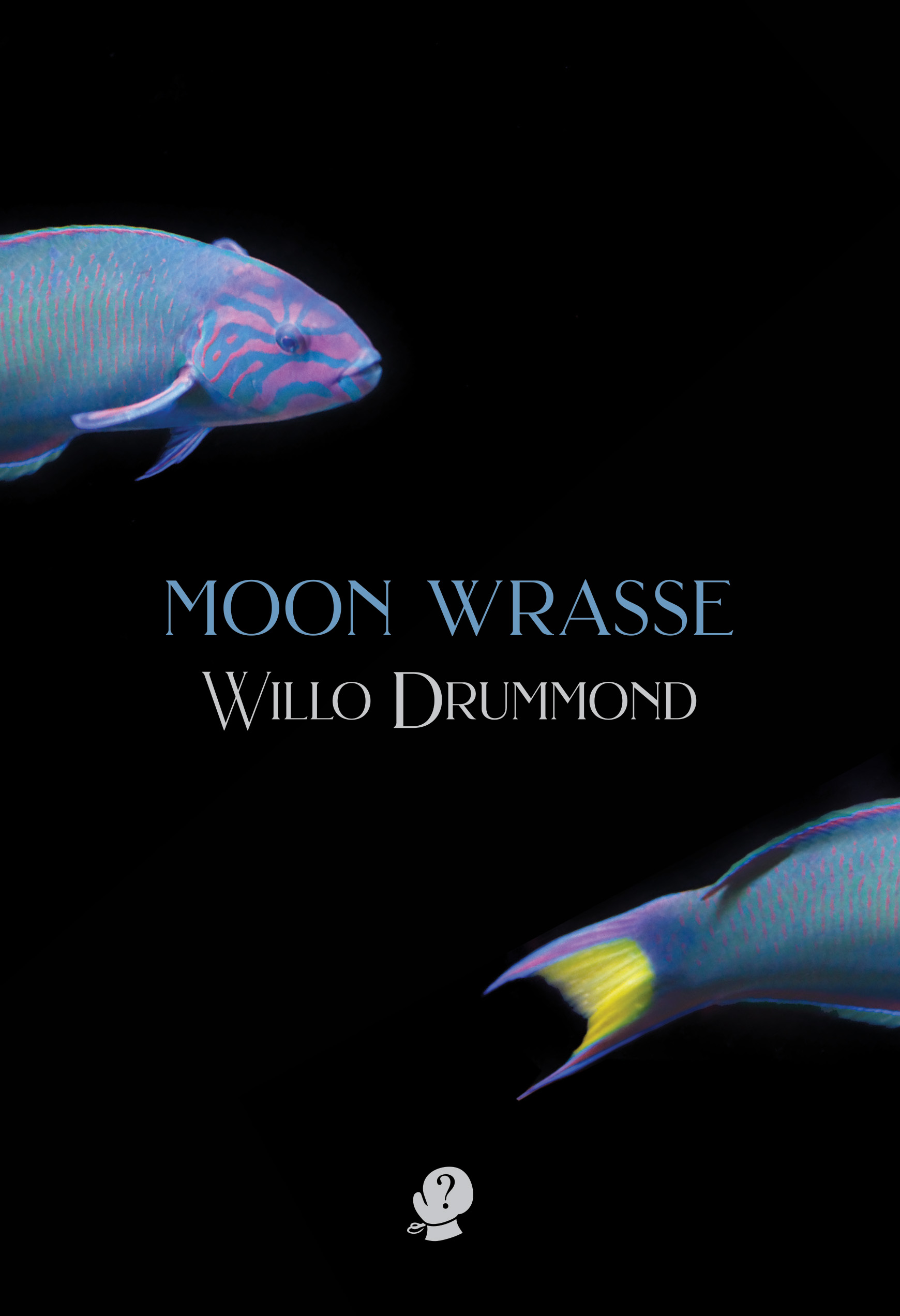 Reviewed by Magdalena Ball 
Moon Wrasse
by Willo Drummond
Puncher & Wattmann
February 2023, ISBN-13: 978-1922571670, Paperback, 86 pages
Willo Drummond's ability to hone in on the most precise, often unusual, word to create an instant impact comes across in every poem in this exquisite debut collection, Moon Wrasse. This precision is never at odds with the aesthetics of what is being written, or the deep engagement and dialogue with other poetry that echoes through this collection with links, particularly the work of Denise Levertov, and Rainer Maria Rilke, both part of Drummond's prize-winning doctoral research. As well as other writers like David Malouf, Mary Oliver, Seamus Heaney, Pablo Neruda, Ezra Pound, Meg Keene, Vera Newsom, and Elizabeth Bishop to name just a few. Drummond works through and with this work to transform these echoes into new and entirely original work. 
Moon Wrasse is in four sections, each in many ways thematically distinct, but also creating a collective meaning around transformations of all kinds that picks up on the title poem – the exquisite fish that graces the cover. The Moon Wrasse is a protogynous Hermaphrodite – starting off as female and changing to male over a period of 10 days. In many ways the title poem sits at the heart of the book, exploring the transformation of a trans-partner, but also redefining the relationship, the nature of the partnership, and the whole notion of identity. It is a joyous poem that echos the many other transformations that take place throughout the book in a ways that encompasses the reader bodily, emotionally, and intellectually as both the transformed and the observer, in a space as intimate as a cocoon and as public as performance:
Here
You are
Forming, transforming
Twinkling your webbed toes
Shaking your tail
Crescent. Lyre-wrasse
The book also engages with transformative processes in nature – from the first poem "Seed" which references "Vivipary" – a seed that germinates into a seedling before being shed from the parent plant: 
At this season's out-welling
after the mangrove moon
she sets her grief in a small seed pod
sends it out across the river.
In waning luminescence
on the aqua-terrestrial shore
Here we have grief, loss, longing, transformation, the exuberance of opening of becoming, subtly and exquisitely depicted through colour. All sorts of colours flicker through the book, but particularly blue, from the aqua shore to Iris' that fall, blue as the rare blue moon, the blue of hope in an indigo night, the bluest carbon of our breath, Brisbane blue, a blue man suit, bluebottles, autumn blue, and of course the blue of the Moon Wrasse also known as the Blue Wrasse. Drummond's blues are luminescent and rare shades, not normally the colour of a moon, a suit, or autumn, but nocturnally accurate, confounding tropes.  
Moon Wrasse plays with sound – poems echoing off one another sonically in a way that allows for silence as its own sound. This is the silence of shame and erasure, but also the space in which light, forgiveness, and empathy can exist:
In the silence
this inscribes (the emergent
space between)
I am untongued with erasures: of you
and so me; each baroque
note of a viol lowing ("The one light is the light in all bodies")
Much of transformation in Moon Wrasse is situated in the environment—mangroves and rivers, dry earth and fecund gardens, streaming trees, and night birds hurtling across a torrent. There is no real separation or binary between the natural world and the human. What is sentient is entangled, embodied and physical. The voices we hear are not just human ones, and the emotion and transformations that occur on many different levels in the world are connected: 
I wanted to be my own island, to gather
my people close. I wanted to open myself
to the world—of words, vaporous thoughts, gestures
like silk—at least to say triumphant: mother, I've left
your long body.
One of the poems that brings me to tears every time I read or listen to it is the deeply moving "Ways of Seeing" which won second in the 2021 Tom Collins Poetry Prize. This poem, like all of the poems in Moon Wrasse, engages the reader on many levels at once. It is most directly a poem about the loss of a pregnancy – maybe the loss of even the possibility of a child – but it is also a poem about any loss, about the inherent beauty in possibilities, even or especially impossible ones, about all transformations, even those that don't move in the direction of desire, and about our embeddedness in this life and all we yearn for: 
these intervals were understood
to begin when the waning
could no longer be seen
before first light. Currently
you are stardust.
Not even
yet
a crescent.
I worry I've lost too many
hours waning.
Moon Wrasse is a book of powerful intelligence and careful restraint that unites grief and joy in ways that are both precise and expansive. It is a book that transforms grief into something entirely new – an arrival and a becoming, reminding the reader that we are are all in a state of becoming.