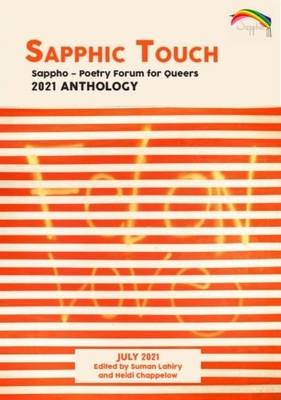 Reviewed by Noel Jeffs
Sapphic Touch – Sappho – Poetry Forum for Queers 2021 Anthology
Edited by Suman Lahiry and Heidi Chappelow
ISBN : 9780646821474, Hardback, July 2020
I was touched in heart and mind by the many serried stories included in this anthology, to me so crisp and with an everlasting contrast of lightness and darkness in your moments of LGBTIQA life and your ethical existence. 
Do we in a lament celebrate our lives now lived? 
I like the use of double pronouns and the categorisations of stages of life by such a wide variety of poets and authors. I wish I had been included,  but I am a late member to the party.
Kit Kelen quotes Levinas to say
'Only the absolutely other can instruct…'  Page 23. 
'Get on with it, the sidelines call'…Page 23.
'There's listening now, there's seeing them' page 24 
listening then;
and beyond a parade  of monumental illusions, so when I received an invitation that began 'Theydies and Gentlethey' (Page 26), I knew it was for me.
We are real now, because we have been spoken to in the name and love of justice and truth as citizens of place. 
Somethings jump out at me.
'You may think that you've erased me, your very worst nightmare. But in every waking moment, know I am not going anywhere' … Page 35
This is breaking ground. You flutter in my answer, so I know I am alive.
'Your name is a tendril; it spirals from my arse-lips to my tongue tip' … page 75
and this says hello to us all,
and it ends in a very reflective space.
'My grandfather's cock was too big for the shelf' … Page 98
and through all of this, is my redemption.