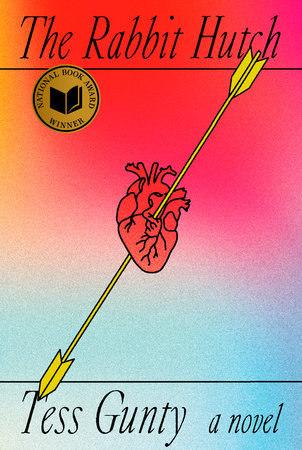 Reviewed by Nancy Spiller
The Rabbit Hutch by Tess Gunty
By Nancy Spiller
Knopf
352 pages, Hardcover, $28.00, Aug 02, 2022, ISBN 9780593534663
Tess Gunty's debut novel, The Rabbit Hutch, opens with 18 year-old Blandine Watkins exiting her body while a "bioluminescent man in his fifties" runs towards her yelling. Discovering the who, what and why of this moment is the rabbit hole readers are dropped suddenly into. Immediate introductions to other sullen denizens of Blandine's low income apartment complex, nicknamed The Rabbit Hutch, follow. It's located in Vacca Vale, Indiana, named one of Newsweek's Top Ten Dying Towns.  We meet a new mother who fears her baby's eyes, a squabbling elderly couple, a spinster who monitors comments for an online obituary site (shades of Nathanael West's Miss Lonelyhearts) and three creepy boys who have, like Blandine, aged out of foster care to become her roomies. 
Like a media debris flow of intelligent thoughts, wry observations and a head spinning parade of surprising images, The Rabbit Hutch is a vision of whimsical dread, as if preparing us for a future of both terror and tedium. Tom Robbins meets Don DeLillo. Fans of Ottessa Moshfegh's My Year of Rest and Relaxation, with its swirling gyre of American stuff, may enjoy The Rabbit Hutch as much as I did. 
I was initially curious about all the hype surrounding the book's publication. Did 29 year-old author Gunty, blonde, beautiful Indiana native with a New York University MFA, now living in Los Angeles, deserve all the fuss?
Yes. 
I was thrilled at how fast the pages turned, my attention for most books having been ruined by obsessive internet reading. Hutch was as much fun as any tumble into the depths of a hyper-linked article, hopping from one apartment to another, a laundromat for religious musings, a private school for children of the "decaying aristocracy" (where Blandine was a poor but brilliant scholarship student) and to a diner where she earns her keep serving quirky pies. An early chapter's underlined words had me itching to tap the text to see where it led. 
Blandine, self-named for a martyred Christian saint, patron of young girls, does wax on about saints, their need for solitude, and her suspicions their ecstatic visions are a form of masturbation. She's also an environmental terrorist, ruining with voodoo dolls and fake blood a wild game dinner held by developers threatening a cherished nearby valley. But like other of the book's numerous threads, this one's eventually dropped. As far as the sometimes murky plot goes, Blandine's greatest challenges include the inappropriate attentions of James Yager, an older, married teacher at her private school, and the pathetic dopes she's living with. 
But don't read Hutch for the plot, read it for the language–seductive, entertaining and leading readers wonderfully astray. Insert your own line breaks and it can at times read like poetry, or a game of word pick up sticks. A throw away character is "a wonky Christian philanthropist—now a resident of Quebec." The effect of Gunty's linguistic pile ons are like a Wes Anderson movie. The phrase "Factory Farmed memoirs" nails an entire literary genre. Gunty offers a fresh techno take on sex with high school drama teacher Yager running "his hands over (Blandine's) skin as if it were offering instruction in an emergency," while post coital, she is "fragile and valuable like a cracked iPhone." 
Coincidences pile up as paths crisscross. Elsie Blitz is the freshly deceased celebrity whose online obit Hutch resident Joan Kowalski must monitor for comments. As a young woman, Blitz played a daughter in "Meet the Neighbors," the favorite show now watched religiously in reruns by the mother who fears her baby's eyes. Joan must censor an outlandish comment by Elsie's disgruntled son, Moses Robert Blitz (named for the New York City planner, Robert Moses, not the ten commandments guy), an act leading to a whole other set of unfortunate circumstances. The book captures our collective ADHD. Is this post legalized marijuana prose—or are we all just stoned on TMI? 
Gunty's characters boast some of the odder in contemporary concerns. Moses is afflicted with that rare condition causing sufferers to believe fibers, not hair, are coming out of their skin. Obit monitor Joan has misophonia, the loathing of sounds like chewing, breathing, unwrapping paper or cellophane packages. And dead Elsie's passion project was the three-toed sloth. 
I especially enjoyed Gunty's habit of taking sentences too far, such as Moses Robert's fondness for Middle America and "the canned corn that travels thousands of miles before returning to where it began." At an airport gate "a sleeping toddler tips over his father's coffee which the carpet absorbs in disturbing totality." The world is presented here in its disturbing totality. 
I read with fascination, happy I'm not 18 anymore and wondering who I'd be if I had access to Wikipedia at that age. The book stumbles towards the end, when Blandine confronts Yager, her inappropriate lover. They sit in his car while she spews a meltdown monologue/raging Op-Ed. He fights limply back with self- flagellation. And let's not forget the unfortunate cover, which looks like a depressed teen's PeeChee folder doodle. 
The book's major threads are tied up neatly. If there is a message, it's that toxic masculinity needs to take a hike. All I will say about the ending is that it reminded me of the movie Taxi Driver, with its accidental hero. To say more would be to ruin the fun, so I'll stop there, even if the marvelous Ms. Gunty doesn't. 
About the reviewer: Nancy Spiller is a writer, artist and educator living on Los Angeles' wild western edge. She is the author of: Compromise Cake: Lessons Learned from My Mother's Recipe Box. and Entertaining Disasters: A Novel (With Recipes)and teaches creative writing for the UCLA Extension Writers' Program. This October 1-9, she will be teaching The Creative Cafe 2.0: Food & Writing on Zoom: https://www.uclaextension.edu/writing-journalism/creative-writing/course/creative-cafe-20-food-writing-writing-x-4651e?fbclid=IwAR1tVU4qhi7h9BaEP6k2tWqCHv_NbpvyBOmhmXHGqgXGt595fVtLOMNBJqU More can be found at http://nancyspiller.org.