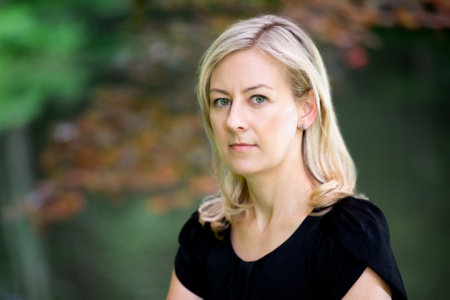 Interview by Simone Jung
Shana Merchant is such a smart and secretive detective with a ton of layers beyond being a senior investigator. How did you start developing her character?
I grew up watching Columbo and reading Agatha Christie's Poirot novels. I was dazzled by the way Columbo manipulated suspects into revealing the truth, while Poirot was so attuned to the psychology behind the crimes he investigated. I think my fascination with both characters contributed to the development of Shana Merchant. I knew I wanted to write a female investigator who was complex and a little bit flawed rather than a cookie-cutter "tough as nails" detective with something to prove. As a result, Shana really analyzes her suspects' behavior and neuroses to get to the root of the crime and uses their weaknesses to her advantage. Because she has some mental health issues of her own, there's a real push and pull between her and her suspects that makes her more vulnerable and ups the story's tension.
As a native Canadian, I can understand wanting to use it as a setting in your books. What led you to choose the Thousand Islands specifically as the setting for this series?
Five years ago, I took a trip to Wolfe Island, Ontario and was struck by its vast, flat landscape and massive wind farm. I thought it would make for an arresting crime scene. While the majority of the Shana Merchant series is set on the American side of the Thousand Islands, Wolfe Island allowed me to challenge Shana and her team by taking some of the action to Canada, where they would have to collaborate with the Ontario Provincial Police. Islands already feature prominently in the series, mainly because I love the dichotomy between the sleepy, sheltered communities on the mainland and the remote and rugged islands. This is a region where violent crime is an exception to the norm on both sides of the border…but I grew up in a small town myself, and I can attest to the secrets that lurk in the homes of neighbors and friends. The more familiar and comforting the setting, the greater the sense of disquiet when the mystery unfolds. 
Did you know Bram's connection to Shana before writing the first book in the series?
I knew from the start that I wanted Shana and Blake Bram, her one-time abductor and the killer she's been hunting, to be connected by blood. The idea that a police investigator could be related to a serial murderer was so disconcerting, and there was a ton of moral and emotional material there for me to unpack. Imagine discovering a member of your family had committed the most heinous of crimes — and then being tasked with apprehending them? That notion was just too chilling to pass up. 
What was the attraction of putting a contemporary spin on classic, Agatha Christie-style detective fiction? 
I've always been a fan of Agatha Christie's novels, but I hadn't come across many contemporary takes on the Golden Age detective fiction of old. I wrote the first book, Death in the Family, as an homage to And Then There Were None, and realized the series had similar characteristics to Christie's books: a clever, independent detective with some quirks, a wide variety of suspects, themes of justice and morality. I'm always immensely flattered when readers tell me my books remind them of Christie's masterful stories. 
The story also deals with a lot of mental health concerns. Why did you decide to incorporate anxiety or PTSD?
Mental health is a relatively common theme in thrillers, but with the exception of depression and addiction — which plague a good number of fictional detectives — it's primarily the antagonist who suffers from mental illness. I just don't think that's realistic. Shana not only investigates violent crime, but was a victim of abduction and psychological manipulation herself, and it was hard to imagine that this wouldn't have a profound effect on her mental health. Depicting her as a woman struggling with PTSD felt like the most authentic approach. Anxiety is a theme throughout the series, to some extent because I think anxiety is often downplayed and dismissed rather than treated like the potentially serious mental disorder that it is. In fiction writing, conditions like this can be convenient subplots, but as a person who's struggled with anxiety myself, it was important to me to portray Shana's journey as realistically as possible — progression, relapses, and all.