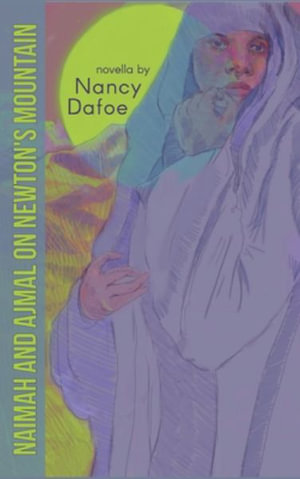 Reviewed by Carole Mertz
Naimah and Ajmal on Newton's Mountain
by Nancy Dafoe
Finishing Line Press
ISBN: 9781646625376, Paperback $20.99, 110 pages
In Naimah and Ajmal on Newton's Mountain, Nancy Dafoe tells a beautiful story of a mother's love, her loss, and her final reconciliation with the Fates. Naimah, a Muslim living in the war-torn Middle East, is struck by a bomb while carrying her baby and fleeing. The infant is ripped from her arms. After years of searching for him in her homeland and struggling through the war's devastations, Naimah finds a way to emigrate to the U.S.
Dafoe draws us fully into an understanding of, and fondness for both of her main characters. Using her amazing imagination, the author convinces us of the significance of Ajmal's early education and ultimate growth into manhood as represented by the animals who mentor him. Parallel to his, Naimah's education steers her towards a literary profession.
A writing professor in a city college questions Naimah:
"After all this time, you are still searching, believing he is alive?…I suppose you have considered the impossibility of this line of thought?"
"I do not know what is possible or impossible, but I'd rather go on searching than forget," is Naimah's reply.
For the conscientious writer, many experiences of loss and pain can be conveyed only by using a special language, one that stretches somewhat beyond the norm. To accomplish this, Dafoe chooses the method of writing her story as fantasy; she never strays from her course: that of allowing her characters to come to terms with their devastating losses and helping them promote their dream of peace to others.
The story begins in the Middle East but ends in Manhattan. For this reader, it was especially gratifying that a book signing in a bookshop forms the final chapter. Dafoe's relatively simple construction in novella form is satisfying. Through short chapters that alternate her two characters, she keeps reader interest to the tale's very last word.
Some flaws in punctuation and editing, and some questionable sentence construction caused minor concerns for this reader. And I'd have preferred a revision to her Chapter XI where I felt too much of Dafoe's own author experience seemed to intrude into the scene of Naimah's meeting with her editor. Despite its theme of serious loss, Naimah and Ajmal on Newton's Mountain nevertheless offers fine reading entertainment and generates renewed awareness of the suffering and separation war causes.
About the reviewer: Carole Mertz, reviewer, poet, and essayist, is the author of Toward a Peeping Sunrise (Prolific Press) and Color and Line (Kelsay Books, 2021). She is book review editor at Dreamers Creative Writing and editorial assistant at Kallisto Gaia Press. Carole lives with her husband in Parma, Ohio. Visit her at  https://carolemertz.com
Amazon.com: Color and Line (9781952326806): Mertz, Carole: Books