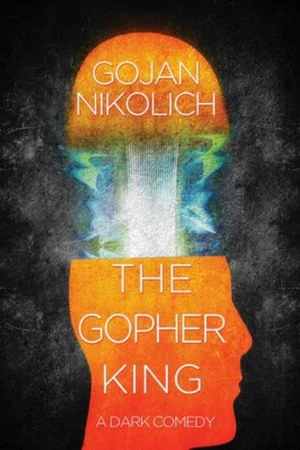 Reviewed by Gregg Sapp
The Gopher King
B Gojan Nikolich
Black Rose Writing
12th November 2020, ISBN: 9781684335732, 326 pg
There is a distinguished canon of Vietnam war novels. Some are brutally realistic, others stray into surreal territory, and many integrate satire into their narrative. The Gopher King by Gojan Nickolich is unique in the genre, combining all those styles, while adding elements of comic absurdity. Mix in a dash of suspense, a pinch of magical realism, and a dollop of murder mystery, and the result is an ambitious and entertaining, albeit somewhat fractured novel.
Prone to nightmares and hallucinations, as well as dependent on a pharmacopeia of controlled substances, Vietnam veteran Stan Przewalski is the epitome of an unreliable narrator. Ironically, as the owner, publisher, editor, and star reporter for the Bull River Falls [Colorado] Beacon News, Stan also markets in facts. Along with Stan, readers are challenged to separate reality from fantasy.
The novel opens with double tragedy—a murdered woman is found by the river, and a wildfire on Bellyache Mountain threatens the town of Bull River Falls. Stan observes, "There was a sense that nothing knew its place anymore. As if the mountains were home to something that had not been foretold."
While visiting his psychiatrist at the Denver VA hospital, Stan picks up a Vietnam travel brochure in the hospital lobby. Upon an impulse, Stan books a whirlwind trip to Vietnam. "It seemed like a good idea. It could help explain myself to me." In three frantic, drug addled days, Stan confronts painful memories of the war and his guilt at being the sole survivor of an enemy ambush.
So far, the novel's tone is grim and sardonic. Everything changes in Chapter Nine, when, back in Bull River Falls, Stan is driving in the rain and hits a prairie dog on the old state highway. He stops and, "for reasons I'll never understand I took him home." Stan tends to the stricken rodent, and all at once the novel digresses into unmitigated weirdness. The animal speaks:
"Nineteen sixty-five, The Strangeloves. Number one song on the charts that year," he said in a helium induced voice. "They beat out the Dave Clark Five."
So, meet Chaz, the Gopher King. In addition to possessing an encyclopedic knowledge of classic rock and roll… "Chaz is a student of history. He can quote Aristophanes, the Jerry Seinfeld of ancient Greece, and knows in great detail the strategies of Wellington at Waterloo and he has the annoying habit of reciting long, punctuation-free passages from Infinite Jest, the novel by David Foster Wallace."
From the moment Chaz appears, the narrative shifts from graphic to offbeat, with occasional digressions into Stan's haunted psyche. As the gopher king, Chaz is the commander in chief of a vast rodent army determined to thwart development of a resort and golf course on pristine gopher habitat. Chaz also has the convenient power to shrink Stan to gopher size, the better for him to appreciate the culture threatened by human incursion, and even to participate in some of the gopher guerilla forays against the enemy. It is telling that the gopher squadron is equipped with Vietnam era arms.
Apart from the gopher battle scenes, some of Chaz's antics seem superfluous. For example, there's one sequence where Chaz and Stan vacation in a Malibu beach house. How much of these digressions are literary technique, and how much they are farces for the sake of cheap laughs is hard to ascertain. Also, the author often ends a chapter with a teaser or a cliffhanger, then starts the next chapter on an entirely different subject. Readers are left to piece together these interrupted sequences of events and their resolutions—if any—belatedly.
The tone shifts back to serious in the last few chapters, when the plot returns to the matters of the unsolved murder and the increasingly catastrophic wildfire.
The Gopher King is a ribald fantasy wrapped up in a psychological drama. As such, it can be appreciated at several levels. How much of Stan's delusions do readers take literally? It is hard to say. But, in the words of the gopher king himself, "If you want to have a headache about the meaning of things, then you have to provide your own aspirin."
About the reviewer: Gregg Sapp, a native Ohioan, is a Pinnacle Award winning the author of the "Holidazed" series of satires, each of which is centered around a different holiday. To date, there are four books in the series: "Halloween from the Other Side," "The Christmas Donut Revolution," "Upside Down Independence Day," and the latest, "Murder by Valentine Candy." Previous books include "Dollarapalooza" (Switchgrass Books, 2011) and "Fresh News Straight from Heaven," which is based on the folklore of Johnny Appleseed (Evolved 2018). He has published humor, poetry, and short stories in Defenestration, Waypoints, Semaphore, Kestrel, Zodiac Review, Top Shelf, Marathon Review, and been a frequent contributor to Midwestern Gothic, and others. Gregg writes full time and lives in Tumwater, WA.