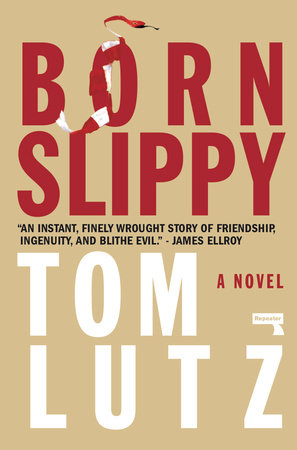 Reviewed by Nancy Spiller
Born Slippy
by Tom Lutz
Repeater Books
Paperback, $18.95usd, Jan 2020 | ISBN 9781912248643, 310pages
Born Slippy is a rip-roaring 21st Century bromance from the noir loving mind of Tom Lutz. His debut novel is a wild ride around the moral compass, from the philosophic musings of autodidact Everyguy, Frank Baltimore, to the amoral aspirations of his sociopathic pal Dmitry Heald. Frank is in Dmitry's thrall from their first meeting on a Connecticut construction site in 2000. Frank is a sad sack 20 something contractor working the wrong end of a McMansion project, while supporting the two kids of his ex-girlfriend. Dmitry is the sketchy teenage son of an English acquaintance he hires to help save the project. Dmitry sees "Franky," as he insists on calling him, as the launch pad to his nefarious American education. The two bond while sharing a tent on the construction site. A lively mind of wide ranging interests, Frank enjoys invoking such literary spirits as Henry James (The Ambassadors is a leitmotif), William Faulkner, Flannery O'Connor and Nietzsche: "Everyman has his price." Frank would be happy to not get soaked on his construction jobs, while Dmitry aims for international tycoon-dom, whatever the cost.
Frank eventually gets himself to L.A., where he finds financial success as a specialist in securing celebrity compounds. Dmitry resurfaces as a hotshot financial whiz, expert in risk assessment ("risk makes the world go round"), a trade he practices on a global scale from an Asian post. When it comes to Dmitry, Frank seems incapable of assessing the risks. Both men ultimately get something of what they want. They even manage to quit each other, or so it seems. This is tougher for Frank than it is for Dmitry, especially after Frank falls hard for Dmitry's beautiful Asian wife.
The action moves at a pulse quickening pace, our hero's journey peppered with witty asides and lively character driven observations. Frank has a special talent for describing rooms from a connoisseur contractor's POV. It helps that Lutz did some carpentry in his younger days. One of my favorites: "The house was as silent as only an old double-walled house can be, the masonry deflecting the outside noise, the internal wood framing and plaster soaking up anything from the inside. Thick wooden doors kept sound from traveling between rooms, upholstery, heavy drapes, thick rugs, tapestries – the place was almost engineered for sound absorption. Maybe that's why he didn't hear her enter." Raymond Chandler meets the Property Brothers! Other real estate riffs add to the fun. Indeed, in one passage towards the end, Frank sees something of the sublime in a building's framing, with 2 x 4s "arrayed against the heavens, the fresh fir rafters on their elegant angles…" Frank is fundamentally a good, sensitive guy who happens to be looking for love in all the wrong places, and ultimately paying a price for his mistakes.
Dmitry, on the other hand, gets away with murder. Literally. A risk he has calculated the need to take. He's also a poster boy for toxic masculinity with his salacious pursuits and chronic cataloguing of women in terms of body parts. I could have done with less tawdry sex. There's so much more interesting territory to explore here. Flipping hot properties, especially in California, can be extremely sexy. And global finance is filled with indecencies!
Lutz' globetrotting experiences inform the book's action, leaping from Connecticut to Los Angeles to Taipai and assorted other Asian and European destinations, all captured in vivid detail. Fans of Succession will enjoy the well-engineered romp as Frank tries to make sense of Dmitry's demented world and his own place in it. That in the end one of the main players becomes a major environmentalist is one of the books best of many darkly amusing jokes.
Born Slippy, by the way, is the title of a song by the British group Underground. It was the name of a racing greyhound they won money on. Here it's also a key to the action, a gamble that ultimately pays off for both Frank and Dmitry. We discover each man's price in that most satisfying of modern endings: ambiguity's embrace. Slippy is also a synonym for slippery, and Dmitry is one of literature's most wonderfully awful slippery characters. I fear there are far too many Dmitrys currently running our planet.
Spending time on the page with Lutz, founder of the Los Angeles Review of Books, is always a pleasure. I've previously enjoyed his non-fiction title Crying: A Natural and Cultural History of Tears, and am drawn to his Doing Nothing: A History of Loafers, Loungers, Slackers and Bums in America, but have as yet lacked the motivation to read beyond the title. In Slippy's end, Frank brings us back to The Ambassadors, with the quote "Live all you can, it's a mistake not to." Born Slippy is brimming with life as lived at the dawn of the 21st Century, a captivating word picture painted by one of our liveliest literary minds.
About the reviewer: Nancy Spiller is a writer and artist currently living in Los Angeles. A fourth generation California native, she was born and raised in the San Francisco Bay Area and is a graduate of San Francisco State University. Her essays and articles have appeared in numerous magazines and newspapers including the Los Angeles Times Sunday Magazine, McCall's, Mother Jones, Salon, and the Los Angeles Review of Books. Her fiction has appeared in the Rain City Review. She lives with her husband and their dog in a coastal canyon on Los Angeles' wild western edge. She is the author of: Compromise Cake: Lessons Learned from My Mother's Recipe Box. and Entertaining Disasters: A Novel (With Recipes)