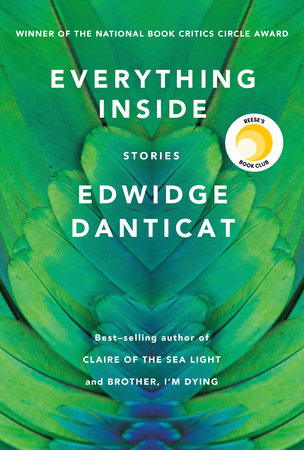 Reviewed by Keishel Williams
Everything Inside
Stories
By Edwidge Danticat
Hardcover, 223 pp, Alfred A. Knopf. $25.95
At a time where immigrant trauma and loss permeates the media, Edwidge Danticat's book of short stories Everything Inside arrives right on time. The themes of loss and grief run through each of these stories. Danticat is a master of identifying and writing about trauma, especially as it relates to immigrants.
Loss and grief are rooted in a large part of the Haitian diaspora identity and manifests both overtly and covertly throughout these stories. Danticat is meticulous in her writing about Haiti and its people's complex relationship with the U.S. In each character's search for a better life, she magnifies the usually unexplored grief that comes with years of generational trauma and migration. With simple, heartfelt, honest storytelling, she transplants her characters into worlds practically any immigrant can identify with, but particularly Caribbean immigrants.
Danticat touches on the suddenness of loss in the story "In the Old Days," which follows a young teacher who suddenly finds the father she's never met only to lose him again. After years of silence from her mother about her father's whereabouts, Nadia finally receives a call from his current wife to visit him on his deathbed in Miami. His wife tells her "his final wish is to spend a few minutes with you." (41) When she arrives, Nadia is confronted with more than she anticipates – parts of her Haitian culture she was initially denied such as the traditionally intimate way they grieve. There she begins to understand how family separations through migration often result in the loss of culture and the loss of identity. By the time Nadia reaches his deathbed her father is gone and with his wife and friends, she mourns a man she never knew, facing this loss in the confines of a culture she cannot identify with.
One of the collection's strongest story is "Sunrise Sunset," which switches points of view between a mother who is in the early stages of dementia and her daughter who is suffering from postpartum depression. The lack of communication and vague assumptions between the women carries the story through to a climactic end, where the mother finally sees her daughter for the woman she really is and vice versa. Relationships between mothers and daughters are notoriously difficult, but relationships between immigrant mothers and second-generation immigrant daughters take on another level of complexity, and Danticat is aware of this when she illuminates this culture clash in this story. "Jeanne has no right to be sad, her mother has often told her. Only Carole has the right to be sad because she has seen and heard terrible things." (140) Carole's own difficult upbringing in Haiti leads her to believe her daughter is not a good mother. Jeanne's lack of understanding of her mother's past leads her to believe her mother is incapable of love.
Death and the mourning for one's life take center stage in the final story "Without Inspection," a piece reminiscent of Tobias Wolff's "Bullet in the Brain" with its third-person point of view structure as it follows a man's thoughts as he dies. In "Without Inspection," an undocumented immigrant, Arnold, is falling to his death from a building on a construction site where he works. Danticat's words bob and weave with imagery so strong, one can feel the wind beating on the face of the construction worker as he plummets 500 feet below into a cement mixer. There is an irony in Arnold surviving his illegal trip from Haiti to the U.S. at sea only to be killed in cement. "This landing was more abrupt than the last one."(210) The comparison of Arnold's 'landing' in the U.S. versus his 'landing' in the cement mixer is brilliant.
The life of an immigrant takes a variety of long-lasting, life-changing directions often punctuated with bouts of tragedy because of uncontrollable circumstances that result from the decision to leave their country. In Everything Inside Danticat accentuates a myriad of situations Caribbean immigrants find themselves in and the life-altering effects. The trauma caused by separation through migration is a rarely explored topic. Danticat does it beautifully.
About the reviewer: Keishel Williams is a New York-based arts and culture journalist and freelance writer. She has contributed to publications in the U.S., the Caribbean, and Europe including BET.com, NL Times, and the T&T Guardian, among others. She can be found on twitter @keishelNOTkesha. For more of her work, visit her blog www.notesbykw.com.