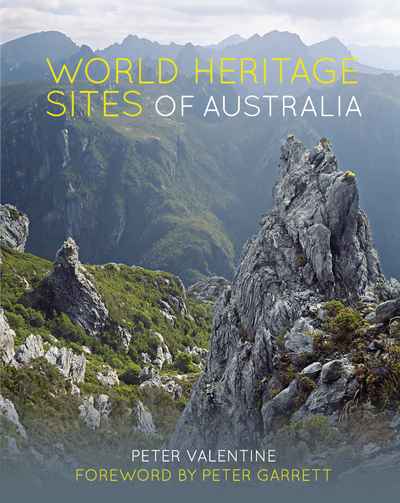 Reviewed by Magdalena Ball
World Heritage Sites of Australia
By Peter Valentine
foreword by Peter Garrett
National Library of Australia
ISBN: 9780642279422, Hardback, Sep 2019, 300pp, AUD$49.99
You'd struggle to find a nicer looking book than Peter Valentine's World Heritage Sites of Australia. This large format, hardcover book is beautifully presented, with photographs that often span two pages. The visuals are breathtaking, arresting, and very powerful, but this is no simple coffee table book. It conveys a critical message, not only about how beautiful our world heritage sites are, but also how important they are historically, culturally, and ecologically. The book features nineteen sites in all, including natural ones like Kakadu, the Great Barrier Reef, Willandra Lakes, Lord Howe Island, Tasmanian wilderness, Gondwana Rainforests, Uluru-Kata Tjuta National Park, the Wet Tropics of Queensland, Shark Bay, Fraser Island, Macquarie Island, Heard and McDonald Islands, the Blue Mountains, and Purnululu National Park, and Ningaloo Coast, as well as man-made ones like the Sydney Opera House, eleven convict sites, the Royal Exhibition Building and Carlton Gardens. Each of these sites is presented with modern and historical photographs, maps, drawings, a brief history and general cultural context, reasons for the sites inclusion, general facts and statistics, risks to the sites survival, and personal reflections which give the book the feel of a memoir. Valentine's writing is rich and poetic and his deep love of the environment he has been observing for most of his life is obvious:
Later I watched a sunset from Ubirr and was awed y the timeline of the land, as I gazed across the plains that had for so long been the home of spectacular wildlife and the first Australians. I had goosebumps appreciating all that had gone before and a great hope that this place could continue to provide inspiration and meditation for future generations. (19)
There are also some places highlighted that could be potentially new World Heritage sites, including those on the 'tentative list', new islands, plains and shoals, and potential extensions to existing sites. Learning about these places is fascinating, but Valentine does more than simply provide context for the beautiful photos in this collection, or even an argument against complacency – something former Environmental and Arts minister and Midnight Oil lead singer Peter Garrett provides in his introduction. Valentine calls attention to the meaning of a World Heritage listing – to protect what is uniquely valuable, and to protect it from commercial concerns, conserving and encouraging a sustainable approach to tourism. By doing so we ensure that the social, cultural and political context of these beautiful spaces are protected and also shared properly, so that people can continue to enjoy the exceptional natural beauty for generations:
There are few other places on the planet with such a large area of undisturbed forest habitats. Within Australia, this World Heritage site is synonymous with wilderness and the associated human experiences. The scenic beauty of such an extensive rea depends on tis virtually untouched nature. (65, on Cradle Mountain Lake St Clair National Park)
Valentine's research is impeccable, as you might expect from a professor who has spent his life working in the areas of conservation and World Heritage management. World Heritage Sites of Australia is part travelogue, part memoir, part sociology, and part geology, presented in a giftable and beautiful format.