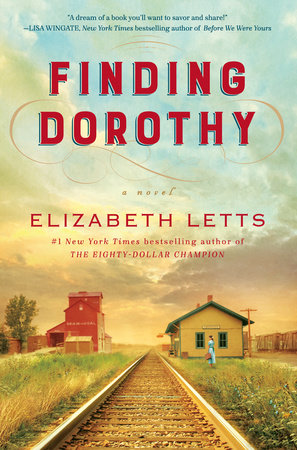 Reviewed by Ruth Latta
Finding Dorothy
by Elizabeth Letts
Ballantine Books
ISBN 9780525622109, Hardcover, $28.00, Feb 12, 2019, 368 Pages
The best historical novels are a type of time travel in which the author takes readers on an entertaining journey into the past, introducing them to real people whom they might otherwise never meet, and subtly educating them about bygone events and mores which impact the present. Elizabeth Letts' new novel, Finding Dorothy, is a dramatic and heartwarming adventure which takes readers to two past eras: 1939 Hollywood, where The Wizard of Oz is being filmed, and to the late 19th century and the life of Maud Gage Baum.
Ms. Letts' novel is timely in that 2019 marks one hundred years since L. Frank Baum's death, fifty years since Judy Garland's death, and the eightieth anniversary of the musical, The Wizard of Oz. A movie about Judy Garland's life is also in the works. Finding Dorothy is timely, too, in that it presents women's concerns that still exist in 2019.
The novel opens when seventy-seven year old Maud Gage Baum goes to Metro Goldwyn Mayer to speak to Louis B. Mayer about The Wizard of Oz. She wants to make sure that the movie, and particularly the character, Dorothy, remain true to the vision of her late husband, L. Frank Baum, the creator of the Wizard and the author of all the Oz books. L.B. Mayer dismisses her by saying that every American has an opinion about how how the film version of the famous book should be presented, but tells Maud she can be on the set to watch the filming.
When Maud hears fifteen year old Judy Garland, who plays "Dorothy", singing an early version of "Somewhere Over the Rainbow", she is impressed. With her remarkable voice, Judy captures how it feels to be a young girl longing to grow up and fly away. When she was young, Maud wanted the same thing.
Growing up in Fayetteville, New York, the youngest child of a hardware merchant and a women's suffrage activist, Maud was an active, outdoorsy child. Her mother, Matilda Joslyn Gage, a contemporary of Susan B. Anthony and other 19th century American feminists, encouraged Maud to wear her brother's trousers while playing outside after her petticoat got caught on a fence. Though Matilda is ambitious for her daughter, imagining her with a law degree, she has left most of Maud's day-to-day care to her daughter Julia, ten years Maud's senior. Julia left Cornell University because of "nerves"; Matilda's hopes are now pinned on Maud.
The lives of girls and women are a major theme of the novel, and include whether university students of the 1880s, prairie pioneers, wives, homemakers, mothers and Hollywood starlets. Although women got the vote in 1920, as Matilda Gage had hoped, male sexual harassment of women was not curbed, but continued into the 20th century, and indeed, abounds in the 21st. In 1880, when Maude enrols at Cornell University, she expects to find freedom, only to discover that the male students, who opposed women attending, control the women's students lives. Drunken young men serenade under her window, call her "Matilda", and try to disrupt a lecture her mother has been invited to give on campus. Maud's roommate, Josie Baum, tells her that women students must be sedate because they are under scrutiny. They should let the "gentlemen" take the lead in conversation, and get to classes early to avoid whistles and cat calls as they enter the lecture theatres. Maud soon sees that she will never fit in among the submissive women students, and will always be seen as her mother's daughter.
At Christmas, visiting Josie, Maud meets her cousin, Lyman Frank Baum, who owns a touring theatre company in which he participates in all aspects of the productions. He and Maud like each other immediately, but when he asks if he may call on her at her home, Matilda says no, not until the academic year is over. She doesn't want Maud distracted by a man in a "flighty and unstable profession… For you, first, a diploma; second, a learned man," she tells her. In the end, Maud leaves university after only one year, marries Frank, and goes on tour with him, enjoying freedom and adventure, for a while.
After establishing the present of the story as Hollywood in 1939, author Elizabeth Letts shifts into episodes from Maud's life in the late 19th and early 20th century, then back again. Transitions between these alternating chapters are smooth, because Maud's experiences of the filming easily lead her to remember her life with Frank.
Ms. Letts gives a sensitive portrait of young Judy Garland, exploited by her aggressive mother and studio executives. On one occasion, when Judy is giggling at the Cowardly Lion and repeatedly flubs her lines, the director, Victor Fleming, slaps her across the face. Maud tells Fleming that if he ever lays a hand on Judy again, she will inform the press that he has ruined the story of The Wizard of Oz. (Why doesn't she threaten to report him to the child welfare authorities or the police? Probably because of the power of the movie industry and her suspicions that the authorities, and society, might find his behaviour acceptable.) When she learns that associate producer Arthur Freed has lured Judy into his private elevator and felt her up, Maud gives Judy a hatpin for self-defence, and enlists the help of Louis B. Mayer's secretary, Ida Koverman, in watching out for Judy.
Maud's concern for the girl playing "Dorothy" is enhanced because she thinks she failed another young girl in days gone by. While Maud's married life has its up and downs financially and in health matters, it's a bed of roses compared to that of her elder sister, Julia, who exemplifies all that can go wrong in a woman's existence. Julia's husband, James, took Julia to homestead in the Dakota Territory, and in 1888, when Maud and Frank and their sons settle in Aberdeen, Dakota to set up a store, they try to help Julia, knowing from her letters that crop failures, rough living conditions, isolation and her husband's alcoholism have taken a toll on her. Addicted to "Godfrey's Cordial", Julia travels eighty miles by train to visit them, bringing along her infant son with serious digestive problems and her waif-like seven year old daughter, Magdalena, whose china doll is named "Dorothy".
On several occasions, it seems as if Frank and Maud will take Magdalena to live with them, but events always get in the way. At the conclusion of a terrible visit to Julia's home, Frank and Maud reluctantly refuse Magdalena's request to come and live with them, because Julia doesn't want her to go. When the Baums say good-bye, Magdalena says, "I'm staying here, but Dorothy (her imaginary friend) wants to go with you." Frank promises, "We'll look after Dorothy together." The name "Dorothy" signifies several things in the novel, providing readers with the intellectual challenge of deciding what "Dorothy" represents.
Another source of interest for readers is finding in Maud's life with Frank the incidents and experiences that he uses in the well-known story of the Wizard of Oz. The Scarecrow, for instance, came from Maud's childhood fear of scarecrows. The tin man came from his stint selling oil. The word "Oz" originated with his children's "Ahs!" on seeing his imaginative Christmas surprises. "It's about our whole life and everything we've endured and imagined, all wrapped up and turned into make-believe," says Frank.
Finding Dorothy is a hymn of praise to creativity: the ability to blend inspiration, experience, knowledge and skill to produce something magical. "Magic," Maud tells Judy, "is when we … all escape ourselves a little bit and we meet up somewhere and…taste the sublime."
About the reviewer: Ruth Latta is the author of four historical novels: The Songcatcher and Me (2016) Grace and the Secret Vault (2017) , Grace in Love (2018) and Votes, Love and War, to be published later in 2019. For more information, contact info@baico.ca or go to http://ruthlatta.blogspot.com and http://ruthlattabooks.blogspot.com