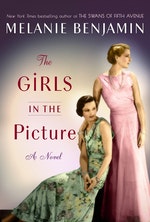 Reviewed by Sara Hodon 
The Girls in the Picture
by Melanie Benjamin
Bantum US
Paperback, ISBN: 9781524796945, January 29, 2018,   448 pages
Long before the faces of today's Hollywood starlets were splashed across newsstand tabloids and crowding our social media news feeds, and even long before names like Rita Hayworth, Vivien Leigh, Grace Kelly, Lauren Bacall, and others from the Golden Age of Hollywood appeared on movie theater marquees, two visionary women helped shape the film industry in its earliest days. Mary Pickford, the queen of the big screen in the silent film era, and Frances Marion, the top screenwriter of the same era who moved seamlessly to writing for "talkies", paved the way for women both in front of and behind the camera. Their close but often complicated friendship and longtime creative partnership is the focus of author Melanie Benjamin's latest historical fiction novel, The Girls in the Picture.
Historical fiction is can be a tough genre to both write and read. The writer must strike just the right balance of historical accuracy and compelling (fictional) storyline. Fortunately or unfortunately, Benjamin has the advantage of writing about a screen icon with a larger-than-life public persona. Capturing Pickford's innermost thoughts and researching actual events from the actress' life was likely a huge challenge. Benjamin depicts a woman who was literally nothing without her fans and the adoration of the public. By the end of the book (dovetailing with the last few years of Pickford's life), the once-adored actress was little more than a recluse, spending her final days shut up in her bedroom, reliving the past and celebrating her glorious, groundbreaking career with not a little bit of gin. By all accounts, it was a sad ending for a true trailblazer in the fledgling film industry. Pickford, born Gladys Smith in Toronto, Canada, was the primary breadwinner for her family—a role she never forgot, nor had the chance to step out of completely. Pickford was the first actress dubbed "America's Sweetheart"—a description that both delighted and disappointed her. Small in stature, with her sweet face and enviable blonde curls, Pickford played little girls well into adulthood. And she played them well. Audiences and critics couldn't get enough of the petite beauty. Yet she longed for more—to bemore. However, when she played roles as an adult, her films flopped. She was one of the first actresses to be typecast.
Although her films may be seen as quaint relics, Pickford's contributions to show business are undeniable and remain her enduring legacy.  Pickford, along with her husband Douglas Fairbanks, an up-and-coming young comedic actor (and Fairbanks' best friend) named Charlie Chaplin and groundbreaking director D.W. Griffith joined forces to open United Artists Pictures, a film studio still in existence today. Pickford was a founding member of the Academy of Motion Picture Arts and Sciences (the organization behind the Oscars), the Motion Picture Fund (a nonprofit organization that offers assistance to those in the film industry with little to no resources) and was the first to win Best Actress at the inaugural awards ceremony in 1920. (Her friend Marion would later win Oscars in two different years for screenwriting, becoming the first woman to do so).
For all the remarkable achievements between them, the friendship between Pickford and Marion was a complicated one, especially as the women grew into adulthood. They were each other's biggest cheerleaders and confidantes, yet there was still a slight distance between them. Pickford, as the primary supporter of her immediate family, never lost the feeling of obligation toward her mother, brother, and sister, and the fear of "losing everything" and having to move the family out of Hollywood and somewhere else—perhaps back to Toronto?—was the single driving force in her career. Pickford loved to be loved, yet she had a difficult time reciprocating that love.
The Girls in the Pictureis told chronologically, beginning in 1969 when Marion pays her old friend Mary Pickford a visit after being estranged for several years, and then circling back to the start of their friendship in 1914. Benjamin alternates narrators from one chapter to another, with the Frances Marion chapters told in first person; the Mary Pickford chapters told in third person. I found this to be an interesting stylistic choice and wondered why Benjamin chose to tell the story in this way. Perhaps of Pickford's legacy? She would hardly be the only celebrity to have an entire public image created for her, when the private Mary was someone very different. Or was she? Benjamin's portrayal is rather unsympathetic, painting Pickford as highly one-dimensional. Her career couldn't survive with the advent of the "talkies"; her husband Douglas Fairbanks—the love of her life—frankly didn't even try to change with the times. Both actors made a few films with sound, but audiences had already moved on to other stars, such as Clark Gable, Carole Lombard, Greta Garbo, and a host of others who would become legends all their own. (Fairbanks' last film was released in 1934; he died tragically in 1939). Coincidentally, Pickford and Fairbanks' marriage ended around the same time as their respective careers. It seems they couldn't live with each other—their real selves—out of the limelight.
The contrasts between Pickford and Marion are evident immediately, yet both women left enduring legacies in their respective fields. Marion followed a more conservative but no less impressive path, both personally and professionally. I was not familiar with Marion prior to reading this book, so I looked her up online. Marion enjoyed initial success as the top "scenarist" (as writers for silent films were called) of her time, but found screenwriting for films with sound even more enjoyable and profitable. Although she wrote for Pickford primarily, later in her career she wrote scripts for other up-and-coming actresses. Marion was thrilled and fascinated by the entire process of filmmaking, and never lost the sense of gratitude she felt for working in such a new and creative industry.  As she became more successful, she had a growing feeling of obligation to give back, or to at least use the film industry for a deeper purpose beyond escapist entertainment. When the U.S. was drawn into World War I, Marion found the cause she'd been looking for—she decided to go to war. She worked as a war correspondent, mainly filming women's contributions to the front lines. (Sidenote: Marion was the first woman to cross the Rhine after the armistice).
As the book is historical fiction and therefore the characters were real people, it's difficult to speak of character development as it would usually occur in a novel. The women seemed to balance each other. Pickford was impulsive; Marion steadier and more thoughtful. Yet Pickford brought out Marion's adventurous side, and Marion gave Pickford the confidence she sometimes needed. Both women enjoyed tremendous professional success, and admittedly less tremendous personal success. Both women were married multiple times. Marion was twice-divorced before moving to Los Angeles and married the love of her life, war hero-turned-minister-turned cowboy movie actor Fred Thomson (who died suddenly and tragically from tetanus after stepping on a nail), and for a fourth time to director George Hill. Pickford was unhappily wed to actor Owen Moore prior to marrying Fairbanks, then married actor Buddy Rogers, whom she lived with until her death in 1979. Both women struggled to successfully meet the demands of family life and career—both were exhilarated by their work in Hollywood and feared no relationship with a man would give them that same sense of excitement. At one point they also promised to never let any man come between them, which is of course a difficult promise to keep. When Marion met Thomson, she decided she didn't need the thrills and glamour of the movies—while she continued to work steadily and enjoy some of the biggest success of her career, she was equally excited to have a stable family life and others with whom to share her successes. Pickford and Fairbanks were infatuated with each other and loved the limelight—when each faded, they found there was little on which to base their marriage.
There is much to learn and enjoy in The Girls in the Picture. Benjamin does an admirable job of capturing the all-too-real juggling act of being a wife and mother (in Marion's case), and career woman. It is interesting to note that although these women lived in the early 20thcentury, they had many of the same pressures as women today. They were part of a handful of women working in a male-dominated industry and fought for equal footing (a fight that still continues). Coming in at just over 400 pages, the book moves at a quick pace despite being chock-full of details. The information is included to simply move the story along—Benjamin manages to keep the plot from becoming too heavy or dramatic. Overall, The Girls in the Picture is a fascinating read, recommended for both film and history buffs interested in the early 20thcentury.
About the reviewer: Sara Hodon is a Pennsylvania-based freelance writer whose work has appeared in over two dozen print and online publications.