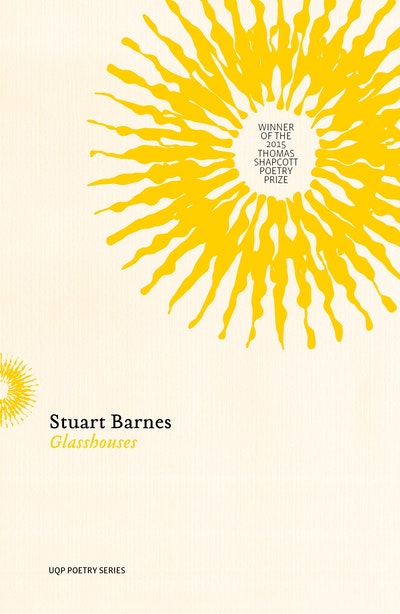 Reviewed by Magdalena Ball
Glasshouses
By Stuart Barnes
University of Queensland Press
ISBN, 9780702254130, August 29, 2016, 104 pages
Stuart Barnes' Glasshouses is not a big book, but the poetry is tightly condensed, covering a lot of ground in a small space. The poems use the page in novel ways, somehow managing to be both traditional – evoking classic structures, rhythms, occasional rhyme, and even pastoral imagery – and post-modern as they stretch the possibilities of language past the semantical. The work resists an easy correspondence. You can't "translate" it to a simple message or meaning. Instead the poems move between landscapes that feel like they should be familiar, with the unsettling quality of dreams or memory – slightly distorted and nightmarish, but also enticing. Each of the four sections of the book has a different feel. The opening chapter, "Reflections", is the longest, and reads like autobiography, though there is an anti-lyrical referentiality that provides a strong counter to nostalgia. This is memory in a more scientific sense, as shards of sensually charged imagery rather than narrative:
A leering toilet roll
doll   full moon, mid-
night's deer-sprint to the outdoor
loo   the top bunk's hexagonal writing sprung,
mattress oozing through cells like honey ("Fingal Valley")
The "I" is often missing in these poems, providing an interiority that resists the confessional, even when the work charts moments that are clearly formative and painful. Dramatic imagery suddenly slides into meta-poetry: "Imprisoned/black cockatoos/long-lived as man/neglectful beneath the same/white sun, its ROYGBIV illusion/destroyed by the tiniest prism" ("Black Cockatoos")
Certain themes recur in different forms: coming-of-age, travel to foreign places, sexual and emotional abuse, mental illness and medication, political corruption and advertising, dissociation, bullying and self-doubt. Played against this is the regenerative power of art and its ability to transform and rewrite the negative. The poems move through very specific times and settings, mostly evoking an Australian upbringing: Fingal Valley, the Fitzroy, the Yarra, Sydney Harbour, Port Curtis, South Hobart, interspersed with timeless external referents that include poets, painters, popular songs, and a multiplicity of voices that invites the reader to join in, fill the gaps, up end the book and read in a different way, allowing the rhythms to drive the work:
Fire, water: cardinal, fixed. Our rulers Pluto, Mars; our detriment Venus. How do you survive, bonsai? Why why why won't you actuaise oomph, do you simply ogle lives through that sea-green curious, terrified eye. ("I")
The vernacular is rich and colloquial, incorporating social media like Facebook and Grindr, conversations, exclamations, signs and labels. Other sections experiment  with forms. Cento is handled particularly well, with each of the five poems in the Cento section pulled together in a way that is transparently beautiful.  The tight focus both strengthens and provides an homage to the original lines:
It's gravity, spilling in capilliaries, ceek-tissue trembling,
oozing past gravity to snuggle
Anne's rose-sweet gravity, and the stiff grave ("Forcento")
"Cyclone Songs" follows the trajectory of Tropical Cyclone Marcia, which hit Rockhampton Queensland in February 2015. The concrete poems in this section cwirl and move visually, pulling the eye across the page in nonlinear ways. The cyclone becomes a synechdoche for every storm we'll inevitably face as weather becomes more extreme, and the reader is placed in the eye:
the tables
have turned
from the bulwark-balustrade
an out-of-time kookaburra's thunder-
bolt, butcherbirds' shrikelike habits ("Pretend We're Dead")
These poems retain the referentiality that's woven throughout the book, bringing in samples from The Cure, The Stranglers, My Friend the Chocolate Cake, Kate Bush, and Boards of Canada, as well as television shows, novels, and many other poets from Sylvia Plath and Gwen Harwood, whose work pervades Glasshouses book so strongly to Ofelia Zepeda, Benjamin Dodds, Nigel Featherstone and many others, including all of the Cento authors whose work has been collectively transformed into something new here.
The final section is a layering of remixes, transformations, and beautiful wordplays. As with the Cento, Barnes' constraints are so subtly handled that they are almost invisible. I don't think I'd have noticed, for example, the double acrostic in Barnes' final poem if it wasn't titled "Double Acrostic", and yet the constraints are inherent to the work, creating a shadow rhythm and underlying tension that is also humorous as it combines unlike images, local vernacular and fierce observation:
Lenticular UFObjects on skies
abandoned as their desert creators. A
communion smiled me to The Base, a chair
extended bluely; I was rolled in side ("Double Acrostic")
Glasshouses is a powerful debut full of tight craftsmanship, and decentred, multi-vocalled poems that combine a temporal urgency and emotional drama with rhythm, form, structure and a creative 'uncreativity' that is both delicate and powerful. Sonnets, villanelle, sestina, found poems, acrostics, and remixes all reference one another and themselves, shifting through an unreliable lens of memory, self-awareness, changing identity, and a progression that works not so much from youth to age but from naivety to understanding.