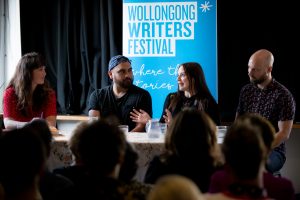 Since its humble beginnings in 2013, the ever-proliferating, forever-flourishing Wollongong Writers Festival is a shining example of what great feats a small group of like-minded people can achieve. The festival, now in its fifth year, has gone on to attract over a thousand people, attending any of the 27 events that comprised this year's program.
The guests headlining were of such a calibre as to make the perennial, mammoth festivals like those held in Sydney and Melbourne, positively green with envy. The line-up for 2017 included Winnie Dunn, Ellen Van Neerven and Clementine Ford appearing at sold-out events, breaking attendance records for the festival by offering a veritable cornucopia of discussions and insight for literary folk.
Each year the Wollongong Writers Festival focuses on a new theme, and this year's was – "Can Words Change The World?" – a simple-to-understand, but nigh-on-impossible to answer question, yet one that would naturally bear bountiful intellectual fruit when posed to the guests attending.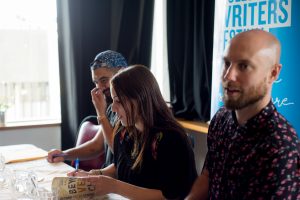 The Writing In Uncertain Times event marks the conclusion to this year's festival, and what a way to go out – featuring a panel of some of the most prolific authors working in Australia.
Held at Jane's, a bohemian bar nestled in a predominately commercial zone, on one of the busiest streets within the 'Gong. A small, charming place renowned for its pizza, now transformed into a haven away from the traffic sounds. The featured guests arrive, guided by the MC for the event, commissioning editor for Penguin Random House, Lex Hirst. Hirst is at the forefront of the industry, having been one of the few championing the changing zeitgeist, found in the form of introducing Spec-Fiction to the mainstream, a broad genre that has largely remained maligned and misunderstood until recent times (and thanks to her efforts). One of the crowing achievements for the movement thus far has been Year Of The Orphan, a post-apocalyptic novel written by newcomer Daniel Findlay, who happens to be one of the guests featured at today's event.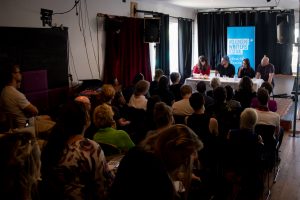 Also comprising the panel today are, Amal Award, an award-winning author and journalist with a provenance in law. She has penned four novels thus far, with her latest being Beyond Veiled Clichés: The Real Lives of Arab Women. Awad constantly explores themes of identity for Arab women within the Sydney and Australian context she finds herself in, boldly challenging long-engrained stereotypes and subverting societal misconceptions through her unflinching prose and willingness to address sensitive issues that (lesser) others would balk at. She is now focusing on screenwriting. Also featured is Canberra-based author, rapper and poet Omar Musa and the aforementioned Daniel Findlay, who, prior to penning his debut novel, made his bones in freelance writing and now also works as editor-in-chief for several children's magazines (a role which he still manages along with balancing novel-writing).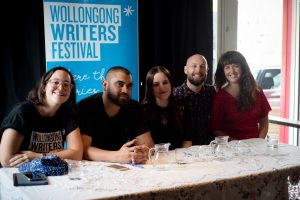 The four gradually take their respective seats at the table erected on the stage near the entrance of Jane's. Thick curtains are then brought around the windows, the front door is closed and before the official proceedings commence, everyone entertains themselves with themselves, breaking out in a buzzing of a dozen different conversations scattered around the charming establishment. It's that pleasant hubbub of literary folks exultant that they are at such an event, an infectious brand that is seldom experienced within the larger, far less intimate events of this ilk held within larger locales. Jane's has indeed been packed to capacity, with the eclectic crowd mingling and making introductions, weaving through the obstacle courses posed by one another to secure one of the precious few seats remaining.
Once everyone has arrived, obtained libations and those that can, have found themselves one of the coveted seats, festival director Hayley Scrivenor kicks things off with an introduction. She first acknowledges the traditional land custodians upon which this event is being held, the Wadi Wadi people of the Dharawal Nation, along with thanking the dedicated team at Create NSW for assisting in financing the event (and the remainder of the festival).
'Can words change the world?' she asks, letting that question hang there as a fine preamble to launch into the discussion.
Hirst echoes those words too, with Findlay being the first to respond. 'For better or worse, yes, they can, fake news or real news. That's living proof of it.'
Awad follows up with – 'People can change the world. Imagery has taken over. Words have become an economy I think.'
Musa's input is also similarly grave. 'Oftentimes words change the world for the worse. They are identity, type of language that shapes our lives.'
That leads into pondering as to the responsibility that they feel as writers, not dissimilar to a duty of care for those charged with minding the infirm, or even a Hippocratic oath for a doctor – a prevailing sense of duty to wield words in an altruistic way, or at least with the intention of bettering humanity, instead of worsening its already dire state. On this complex topic, Awad first answers – 'Stay on purpose always, my responsibility is to do my best. By always asking, what am I trying to achieve with my words?'
Interestingly, Findlay confides that the freedom afforded Spec-Fiction writing is the reason why he chose a post-apocalyptic setting, as compared to the more traditional settings of contemporary fiction (which in turn pose their own hefty constraints). 'I love Spec-Fiction because you can safely write about harsh realities that are happening now.' He cites how he was influenced in writing Year Of The Orphan by exploring the shameful history of Maralinga Nuclear Site (a testing site located within South Australia), going on to provide a vivid retelling of his experience when he visited the infamous real-life location. Sharing the memory prompts Hirst's next question about whether each of the writers first starts with the storyline, specifically that of the premise, or do they instead focus on a single stand-out, arresting image and then the story develops on its own accord from that?
'I have an image first.' Musa says. 'And then the story slowly reveals itself.'
Awad is motivated by wanting to create something that she has never seen before. 'I wanted to see a chick-lit novel about Muslim women, so I just wrote it. Fiction allows you to explore any themes you want to, that you might not be able to with non-fiction. I wanted to normalise my being.' She also adds how this served as inspiration and the driving force with her Behind Veiled Clichés novel.
At mentioning females in writing, Hirst then uses this as a platform to have Findlay open up about having the main character of Year Of The Orphan, the titular Orphan, being a girl and if this was a deliberate move to include a female character, effectively checking off a box in order to be classified as fair and inclusive. Dispelling this, Findlay states matter-of-factly – 'She was always who she was, there was no conversation about gender, I didn't do that on purpose, I just saw her as a female. I was always going to avoid using sexual violence as a plot point, but she is an incidental woman. Her gender was never the focus.'
To explore the contrast of this, Hirst asks Musa about his Here Come The Dogs, which features no female leads throughout the novel and has been heavily criticised for that. 'I was aware there would be critiques,' he admits. 'Because it would be such a male-dominated novel, but it was right for that novel.'
Stepping outside of the role of an author and instead adopting the viewpoint as a consumer of other's writing or films, the panel then considers how they appreciate works. Having had a youth growing up in the family-owned video shop, which enabled her passion for movies, Awad commences with considering how she viewed (and continues to view) films: 'I can always tell if it's featuring Muslim characters, but they didn't have a Muslim writer on the team. I grew up on a diet of Hollywood, and if you look at the Muslim characters from the past fifty years, few of them are realistic, or flattering, they are almost always the villains, the bad guys. Some people want my story, but told through their lens.'
This delving into the appropriation and the need to accurately represent persons from all ethnicities and minorities in order to write properly (harkening back to the original 'do words have the power to change the world?' idea) brings about questioning how can one represent others properly, which bridges into the age-old discourse of if appropriation is ever acceptable. Hirst directs the question to Findlay, given he has been exposed to such a quandary of balancing both male-oriented and female-oriented content as an editor-in-chief for several children's magazines. He answers with: 'We do think about it, kids are more aware of it. When I inherited K-Zone, it was very hyper-masculine, we've worked hard to give our readers what they want, a diverse mix, written by both males and females, as well it should be.'
Much of understanding how best to represent any and all within writing, must derive from possessing a keen ability to learn and listen, along with exhaustively researching too. Hirst's follow up question centres mostly around the need for research and what level do the three other panellists do it, or feel compelled to.
'I do a lot of research.' Musa says. 'But it all plays into appropriation, no matter what.'
Findlay follows this up with expressing an attitude that should probably one of the golden rules for any aspiring author. 'I think you need to cop the criticism, you have to accept that is going to happen, whenever you write.'
This leads to broaching the Lionel Shriver example, the controversial incident that occurred with the best-selling author of We Need To Talk About Kevin fame. During her appearance at last year's Brisbane Writers Festival, Shriver spoke, at length, about how writers should be allowed to write about whoever they want to, comments that were interpreted as incendiary and none more so than by Yassmin Abdel-Magied, who stormed out of the event and wrote a scathing piece in response.
As the remembrance of this divisive event dies down on the panel, Awad then bases her response more on her own experience and provenance, than the reactions to her work. 'You have no idea what it's like, growing up to be the exception.'
This last topic marks the conclusion of the time allocated for speaking. Like all stimulating, free-flowing discussions between a collection of people attuned on the same wave-length, it went by in a flash, beggaring belief that more than an hour has flown by. The audience hurriedly dissipates in order to swoop in and purchase the books available on sale in one nook of Jane's, before lining up to have their copies signed while chatting with the writers.
I take this as my opportune moment to chat with festival director, Hayley Scrivenor. We begin with discussing what she has hoped to achieve with the festival, since taken the reigns as director. While Scrivenor has been heavily involved behind the scenes since the festival's inception, 2017 marks the first year that she has ascended to the role of director and the gargantuan amount of responsibility so attached.
'I'm immensely proud of the program we have delivered,' she confides with a chuckle. 'My job this year was making sure people heard about us, knew who we were and what we were doing. I do feel like there was a greater awareness this year. We've always had a fantastic program, and it makes me happy to know we are reaching more people with that program than ever before.'
In mentioning the program, Scrivenor considers what has made the festival so hugely popular, drawing not only large numbers from the close-knit local community, but people in droves from some of the most far-flung reaches of the nation. 'I think people love what we are putting on,' she says. She attributes the record numbers of attendants (each year gaining exponentially bigger numbers than the preceding year) to the high-quality of the events, including the array of talent featured and furthermore, the natural, idyllic beauty of Wollongong and its surrounds. 'People that visit for the festival get to enjoy the beach, the mountains and the relaxed vibe that Wollongong has to offer.'
It is this relaxed vibe that is readily apparent within the event today, as attendants engage with writer guests in a laid-back environment that encourages the chance to properly speak with one another over an extended period of time. This level of interaction is a sharp contrast to those found at larger events held in places like Sydney, whereby purely due to huge numbers of attendants, time constraints render it impossible to chat with a beloved writer for any longer than a few seconds.
Scrivenor also mentions an organisation that has proven instrumental in realising the collection vision held for the festival, enabling this to happen through fiscal support, among other forms. 'We also have to give a huge thank you to Create NSW. Funding support from them this year has made a huge difference to how many artists we can work with, allowing us to bring people from around Australia, but also putting more local writers on the stage and in the spotlight.'
Lastly, the festival director speaks of what she hopes for the future. 'I think Wollongong is such an amazing place and I hope to see it become a destination festival – something people put in their calendar every year because they know they are going to have a good time. I want us to keep putting on events that are engaged, curious and fun.'
With people faithfully flocking from all over Australia to the festival each year, it's clear that the sky is the limit for what could happen next year and every year thereafter.
Check out their website here: https://www.wollongongwritersfestival.com/
And stay connected on their social media for all news: https://www.facebook.com/wollongongwritersfestival/
Samuel Elliott is a Sydney-based author that has been published in Antic, The Southerly, Compulsive Reader, MoviePilot, Writer's Bloc, Vertigo, Good Reading, FilmInk, Veranadah, The Big Issue and The Independent. He is currently working on his novel series, 'Milan Milton: Heiress' in between completing a degree and working two jobs within the television industry. Find him at:
www.facebook.com/samuelelliottauthor