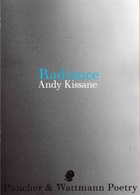 Reviewed by Magdalena Ball
Radiance
By Andy Kissane
Puncher & Wattmann
ISBN: 9781922186522, Paperback, June 2014
I was still in the throes of another poet's words when Radiance came through my letterbox. The work immediately drew me in, providing a surprisingly pleasant (because not often seen in such conjunction) mingling of wry humour, intense introspection, and meta-poetics. The book is structured into four sections, each quite different in focus, structure and style, and each prefaced by a quote that sets the overall tone for the section. The first section's quote is from Seamus Heaney's "Postscript," humorously providing a preface to the collection. Heaney talks about blowing the 'off-guard' heart open, and that is exactly what the poems in this section set out to do, with 'stories' of domestic epiphany. In my favourite poem of the section, "Flight", the reader takes a walk, moving past sandstone cliffs and looking for whale. However, what we find isn't so much a breaching whale, but the essence of whaleness – an "immense, unknown life/going on around you, within you, as the buffeting, lunging wind picks you up and gives you wings." Other poems fold themselves around the way in which the need to make a living immolates life– through exploitation, poisoning, overwork, and sometimes violence. Children, animals, and adults all face their own frailty in one form or another, in different locations, different timeframes, and captured moments like snapshots at the turning point of life. There are many harsh stories through this section, however, despite all of this, the heart blows open and we feel the beating beauty of life shining through, in the spin of an ice skating manoeuvre, or in the way life continues to shine through our worst mistakes:
 Yet I can't resist the urge to end this catalogue of failure with its opposite, I want to leap from the incombustible heart to its flaming…("Schooling the Heart")
The second section in the book is the most fun, self-conscious of its form, full of literary references and people, and yet still moving and personal. It's epigraph is from Galway Kinnell's "Oatmeal", about eating oatmeal with imaginary companions – in Kinnell's case, John Keats. Kissane provides breakfast (or 'fish soup') with Keats, Shelley, Dylan Thomas, Virginia Woolf and a long lost loved one who becomes everyone we've ever lost. The mingling of the domestic and death – Woolf's suicide, Shelly's unburnable heart (recalling the heart of Tolstoy's unrequited lover, Konstantin Dmitrich Levin, cited in "Schooling the Heart"), and Thomas' drinking, mingling with a hug, a shared meal, or a gentle tease about language. Though as a reader I feel the pain of loss inherent in the love of these great writers whose work I've lost myself in, there's a universality in this section that goes beyond the particular subject of the poems. The two "Angophora" pieces which sandwich the section in "Prelude" and "Coda" remind us of all that we lose in our lives – the people who die, the friends who drift away, and the way they stay with us and inform our own lives:
…these apparitions come—not wisps of air,
but people of hard muscle and freckled skin,
friends I've lost contact with, writers whose work I love,

all of them clamouring for fish soup and conversation,
as we suddenly tumble on what we really think,
here on the balcony within the visible and vanishing air. ("Prelude: Angophora Submerged in Fog")
Section three begins with James Wright "The Minneapolis Poem", and the notion of transformation and freedom. This section is the most political of the book – exploring notions of who we are and how we move beneath those labels and prejudices that hold us down. Some of the poems are set in bucolic scenes: a man chopping a log, a walk around the garden, a poet talking to her fans, a memory of childhood holidays in the car, or a trip to the theatre. In each of these there is a moment of enlightenment – you might call it "flow", or transformation, when something changes. The man becomes his axe; the poets become Blue Tongue lizards; the writer becomes sage, Buddy Holly finally writes a love song where he's loved in return, the artist finally finds a way to transform the hot coffee steam of the moment into literary reality, and the theatrical storyteller brings back the dead:
I'm sure Dad would have loved this—a story
that takes a whole evening in the telling
and a small fire that leaps and glows
and transfixes us, for as long as it burns. ("It Begins with Darkness")
Other poems in this section are no less transformative but the transformation is a dark, painful one – such as the impact of bushfire in "What Lies Beneath" and "My Husband's Grave" – where death is random, and those that live are left to feel the pain of this transformation:
"This
is a place where people have always had to start
from scratch, crawling forward on blistered knees, skin
stretched tight enough to cover a snare drum, hands now
applauding new skin that is itchy, mottled and alive. ("What Lies Beneath")
Despite the intensity of a reference to the Treblinka extermination camp, the "Political Fruit" series comes as light-hearted relief from some of the more painful work in this section as it explores a number of Australian fruits, compacting them into large-scale metaphors. "Quince" compares its yellow slices to bodies of refugees marching towards the most deadly of all German Concentration camps. "Mango" reminds me a bit of a reversed William Carlos Williams' "This is Just to Say", where the fruit becomes an offering – scenting the bedroom with its seductive fragrance. Rhubarb arrives like an immigrant, while Mulberries are freely purloined; reminding us that ownership is a nebulous condition:
relishing how you stumbled on his feast
like an original hunter-gatherer and thinking
how it must have been hard for the Aborigines
to get this idea that some fellow owned the lambs
they were carrying off on their shoulders.
The final section of the book is a moon series, opening with a line from Hippolyta in A Midsummer Night's Dream. The moon is personified, becomes wife, partner, petulant and attractive, we follow her movements as she goes to the cinema, reads nonfiction, attends to the garden, comforts her friends, and of course, shines. This final section is mellow, easy-reading, and despite the extended metaphor, is a tribute to family, love, and the beauty of ordinary life:
Everything wanes,
then blazes. If we're lucky we make our own myths. ("Home Comforts")
Though the poems in Radiance are powerful and hard-hitting – making the familiar new, and challenging the reader's perspective, the entire collection is suffused with warmth that continues to charm, even when we're reading about horror. These are poems that, regardless of theme, remain unabashedly positive, at times, extremely funny, and inviting, even as they're undermining our prejudices. This is a collection that will bring the reader much delight, without ever sacrificing depth, intensity, or literary power.
About the reviewer: Magdalena Ball is the author of the novels Black Cow and Sleep Before Evening, the poetry books Repulsion Thrust and Quark Soup, a nonfiction book The Art of Assessment, and, in collaboration with Carolyn Howard-Johnson, Sublime Planet, Deeper Into the Pond, Blooming Red, Cherished Pulse, She Wore Emerald Then, and Imagining the Future. She also runs a radio show, The Compulsive Reader Talks. Find out more about Magdalena at www.magdalenaball.com