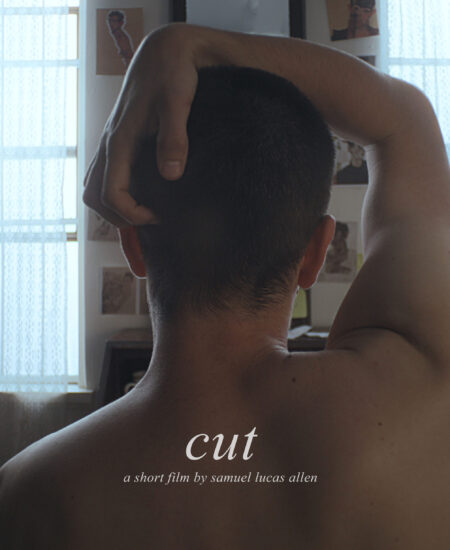 Reviewed by Magdalena Ball
Samuel Lucas Allen packs an awful lot into his new short film CUT. There are multiple themes that bisect one another, driving the plot forward, but the film is so sensual and poetic that it seems to expand beyond the limits of its format. Ostensibly, it's the story of Daniel (Will Bartolo), a year eleven boy whose sense of guilt and desire threaten to overwhelm him as he grapples with his growing sexuality, his confused sense of cultural identity, and his deep desire to belong to his high school peer group. These conflicts are mapped against the overt antisemitism of Daniel's odious "friend" James (Ryan Morgan) and the circle of friends who join in.
Meanwhile a Hasidic ghost played with brooding perfection by Richard James Allen begins appearing as an apparition, holding a chicken against a sonic backdrop of chanting "oyyoyoyoy".  The chicken is a reference to the orthodox tradition of Kapparot, a ritual swinging and slaughtering of a rooster on the eve of Yom Kippur as a symbolic gesture of atonement. The Hasidic ghost comes to symbolise Daniel's own sense of guilt as he pretends to be a range of things he isn't: straight, gentile, and a jack-the-lad who enjoys smoking from a bong, telling antisemitic jokes or watching silently while his friend commits increasingly heinous acts of anti-semitism.  
Against this backdrop, Daniel's class is reading Shakespeare's The Merchant of Venice, a story within the story woven smoothly into the film as Daniel memorises Shylock's immortal lines: "If you prick us do we not bleed?". The story is certainly engaging with tensions that drive the narrative to a powerful conclusion, but what really makes this film a stand out is its visual impact.  The cinematography is stunning and the film's imagery, combined with the haunting music by Australian composer Sam Weiss, create a story of their own moving from the urgent beauty of Daniel's attraction to Issac, the tension of competing phone messages, the moment James spray paints a swastika over a Coexist painting, or Daniel praying with his orthodox father (Ashley Lyons). There isn't a lot of dialogue in the film but these images speak volumes, with repeated motifs such as the knife which not only harks to the title, but also evokes circumcision (referenced in the opening), Daniel's haircut, and the atonement of Kapparot and what it symbolises in the context of identity and awakening.
CUT is a film that is, quite frankly, unforgettable. As a coming-of-age story, Daniel's transition is one that well, cuts deeply while allowing the visuals and music to do most of the talking.  The production is excellent, and the music, cinematography and consistently top notch acting makes for an emotive and deeply moving film with wide appeal.  CUT is premiering at cinemas around the world (full list here: http://physicaltv.com.au/cut-2023/).