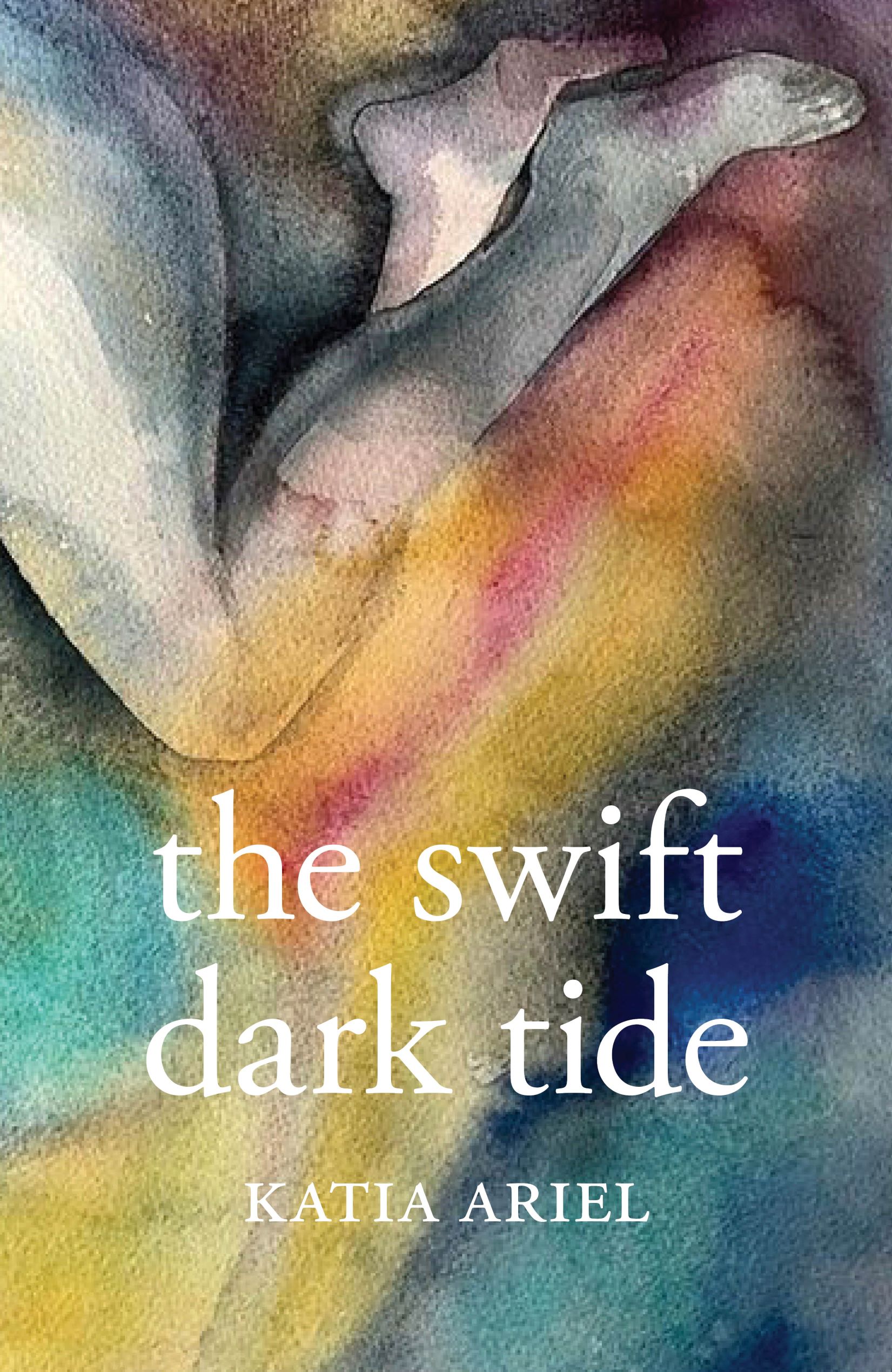 Reviewed by Magdalena Ball
The Swift Dark Tide
By Katia Ariel
Gazebo Books
May 2023, ISBN: 9780645633719, Paperback, 
Katia Ariel's The Swift Dark Tide is a rich and complex book, which Ariel describes as a 'diary that doubled as a breathing exercise that tripled as a love letter". It reads that way too, as an intimate multi-genred work that is  knotted with elements of philosophy, mysticism, and poetry. 
The narrative point of view shifts from memoir to letter to essay, linking together disparate moments in time or transitional points in the present with those in the past to create a piece of writing as soft and fluid as the beautiful image on the cover painted by Ariel's mother, the artist Margarita Krivitskya who is also featured in the book. There is a clear narrative arc that drives the reading forward quickly, but the writing is so sensual and languid that it creates a resistance to that progression. So much transformation happens in the gaps between the action – looking at the ocean, in the silent space of memory, in a moment after birth while looking into a newborn's face, or even small moments of mindfulness such as noticing the pure green of a paediatrician's jumper, or a seaweed crown "mossy garlands the circumference of an adult head" floating on the surface of the water. These moments encourage a similarly meditative response from the reader. 
The primary structure of the book is diary entries, titled, dated, and written in second person, with the 'you' being the beloved. This is the main story which explores Ariel's experience in falling in love with a woman while in a heterosexual marriage with three children. Though the story is a painful one through the transition, not just for Ariel, but for everyone involved including Ariel's very understanding husband Noah, The Swift Dark Tide is actually a joyous, exuberant story of becoming which continues even in the absence of its love object. The opening of the self cannot be stopped once it starts. It is very like childbirth transition, and the change parallels a number of actual births in this book, described in rich detail that reflect's the book's title – the blood, the effort, the cervix opening, and the transformative aftermath, where all of that pain is transformed into something wonderful, including after a long difficult first birth, intergenerational healing:
So often we feel the connection but have to wait for the fullness of the being (our being) to emerge. So often transition, grace inside transition, is the greatest gift that is asked of us. And so often we struggle to give in, to give up, to exhale while one thing becomes another. We hold our breath, we twist in our skin but don't let go enough to cry. (87)
The story of Ariel's mother, and that of both of her grandparents, is braided through the work in sections that are structured differently. There is a chapter titled "Black Pearl" where the narration shifts to a series of vignettes or "Artefacts" that form a separate memoir of Ariel's mother. Krivitskya, described as a "a dark-eyed supernova who has always understood her world through painting it" provides a distinct story of migration, trauma and art that, when released, opens yet another portal to the grandmother's story. These stories of hardship, desire and abandonment are entangled with Ariel's and form a rich helix of DNA and love, and though they are structurally quite different, it all comes together in a way that feels natural:
And I suppose this braid of abundance and scarcity would have been a key driver of her choices. What was taken from her by the Soviet state and its corollary privations shaped her character — this was the silent hand that wrote the plot of her life. Only this wasn't a one-handed job. Every day, it seems, another hand snatched the pen and wrote my grandmother's story. (115)
There are also male stories. There is the story of Noah, whose life changes dramatically but at least through this lens, never falters in his love of Ariel or the children. Noah's warmth is reflected in  Ariel's grandfather, also a writer, whose story "Galochka" is printed in full and contrasted against  Ariel's father, who she rediscovers. I won't spoil what happens in that meeting or what follows, but the generosity and care through these links are empathetic and warm even when they falter.
You would think that the many narratives and structures in the book would be hard to follow, but these  interwoven stories come together seamlessly to form beautiful memoir that connects all of these lives in time and space, between Odessa and St Kilda, forming a matrix of empathy, of love, and of healing.