Reviewed by Magdalena Ball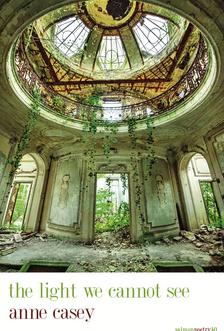 the light we cannot see
By Anne Casey
Salmon Poetry
22 June 2021, ISBN: 978-1-912561-97-1, 98pages
the light we cannot see is Anne Casey's third collection. This is a book that addresses the major issues that our species is dealing with right now: the impact of Covid-19 with its isolations and fear, our warming planet with its human-centred impact including the Sydney bushfires of 2019-20, the devastating effect of plastics on our oceans, loss of species, and the severing of deep connections, 
As with all of Anne Casey's work, the poems in the light we cannot see contain a deep underlying humanism that comes through every poem. Perhaps this is the light we cannot see – a rich illumination more felt than seen, providing hope through the many threads of grief that connect the poems in this collection. Many of the poems are inspired by Casey's Irish heritage, shot through with Gaelic motifs that link the poems, from a brilliant coupling of "The Second Coming" by WB Yeats and the Coronavirus, to a plait or DNA-shaped prayer to Celtic goddess Brigid. The windswept Irish headland forms a backdrop to many epiphanies that connect grandparents, parents, children, and forms a horizon wild and precious; immediately present and already lost:
I could tell you how the whole earth seems to end
at this one place where the land falls
cleanly into a tumultuous thundering—
the relentless roar of furious millennia crashing
iced cobalt against three hundred million years
of vertical bituminous siltstone stubbornness ("Where gulls cry")
These poems traverse a wide terrain and yet remain firmly grounded in the domestic world, shot through with a sense of longing, loss, guilt, beauty, and a kind of warrior spirit that is charged by motherly love.  Many poems connect the human and the animal. In the stunning opening poem "Prayer-fish", human grief is encapsulated in the body of a crow:
I catch your black
wing—conjoined
in the ragged
splay of dying light,
together we spiral
towards the thin
carmine line.
Exile, isolation, and a desire to return to a home and people that may not exist anymore forms a recurring theme. This is, of course, a reference to Ireland – a place that is distant in both time and space, but it is also the Earth itself.  Casey pans out her perspective so that homesickness is conflated with a sense of loss about the perilous "code-red" state of the Earth. This is particularly poignant in "Singularity I" which has the reader taking on the role of Buzz Aldrin:
…Reflecting on Earth:
seeing 'home' for the first time in that vast
perspective at once vivid and spectral this silenced beauty
turning slowly over its own desolate truth:
the enormity of its one persisting challenge—
to somehow find our allied humanity
Casey gets right to the heart of what matters, without diminishing the complexity of suffering, or the deep sense of awe and joy that mingles with the pain. For example, in "Calling my mother" explores the continual conversation that one has with a parent who has died and the way our relationships with them grow and change even when they aren't physically with us anymore:
How it was only as her blood
& bone broke down, I understood
how she had always been more
than two parts star. ("She understood")
Casey experiments with form, sound, and structure, and plays with words and lineation, creating poems that are often visually arresting, stuttering, breaking and reforming, swelling and shrinking through the line break, changes in the font, and very clever use of space that runs through all of the work.  References run broadly from Yeats' poetry which is almost a talisman in the book, to Eric Carle's A Very Hungry Caterpillar.  One of the feature poems in the book is the title poem, which references Dante's Divine Comedy, a long, loosely structured elegiac piece that descends into a visceral hell of birth and death, exploring notions of inheritance, disease, and trauma, but also love and transcendence. This is an epic poem, no less so in its rhythms than in its semantics, where Casey's experience in working with composers as a lyricist has clearly honed her sense of sound:
Out of the impregnable gloom
      looms an all-too familiar terrain—
    round hills rolling in
great grey grainy waves,
like some long-dead
lunar sea-bed—- 
All of these poems read beautifully aloud, with sonic elements throughout, including words that sound like a howl, like a whisper, or concrete poems that depict what they describe.  Sometimes the work makes you hold your own breath or exhale in a certain way, as in the lovely poem "Hope spell" which inserts a line pause that moves backward across the page as a kind of pranayama – a forced breath that creates an incantatory quality:
Spray of     ocean on a predawn shore
Tender essence of.      Slumbering child
Saffron strands.   Extracted from sunrise
Dewdrops of.     First spring lead-bud. 
The light we cannot see is a gorgeous book, rich with all of the complexity of modern life, and full of moments of transcendence, beauty, and loss, all covered with a light touch that seems illuminated.