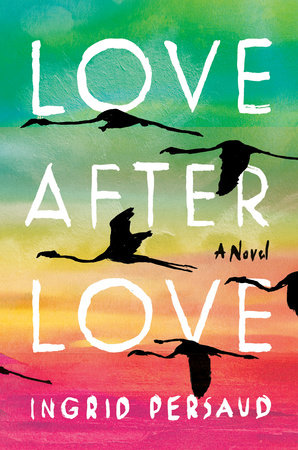 Reviewed by Keishel Williams
Love After Love
by Ingrid Persaud
One World
Aug 04, 2020, 336 Pages, ISBN 9780593157565, Hardcover, $27
Being a middle-aged single Indian mother is hard enough without throwing the secret of your husband's death, and your love for a gay friend into the mix. This is the melee Trinidad-born, London-bred novelist Ingrid Persaud brings us into with her emotionally-driven world of characters in her debut novel, Love After Love. Just as captivating as her first short story "The Sweet Sop," which went on the win both the Commonwealth Short Story Prize in 2017 and the BBC National Short Story Award in 2018, Love After Love is a stirring novel refreshingly told in Trinidadian vernacular and examines various iterations of love in an unconventional East Indian family of a mother, her young son, and their gay lodger who quickly becomes an integral part of their lives.
Set in modern-day Trinidad and New York City, Love After Love follows the lives of these three individuals as they each struggle to find, understand, and hold on to their idea of love. In a society bestrewed with varying levels of barriers that traumatize and impede them on their respective journeys, they face a plethora of issues including immigration, homophobia, and domestic violence. Persaud's lachrymose prose further discusses the physical, mental, and emotional burden of loneliness in the absence of love. 
The story's protagonist, Betty Ramdin, lives a tumultuous life. A woman who endured years of abuse from her husband before his death, Betty continuously searches for affection in the men closest to her – her son Solo and their house companion, Mr. Chetan. As a middle-aged widowed woman living in a post-colonial Caribbean country, Betty understands that despite her desire for love, tradition dictates otherwise. She understands that the community still expects her to be in perpetual mourning for her husband, despite his abusive demeanor in life. 
Persaud, who was born and raised in Trinidad in an East Indian home herself, draws heavily from this culture in her development of Betty's character. Betty's own insecurities and fear of being judged by society play out throughout the novel, rearing its head even amongst her closest friends who question her decision to stay with an abusive husband for all those years when he was alive. "Where I was going to go? Who else would want me and my small child? My own mother said licks showed Sunil loved me," she tells her best friend as they cleaned Sunil's grave for All Souls' day. 
The sense of duty and tradition supersedes any personal emotion and desire, and Persaud illustrates this well through her characters. Even though Betty's friend, Deedee, is adamant that they should not be cleaning the grave of a wife-beater, Betty stood her ground, understanding that women in her position do not always get what they want. "You not doing it for him. You doing it so nobody can point their finger and say all kind of thing about me."
As a single mother of East Indian descent, Betty not only has to face what she believes to be the personal failure of loneliness, but also the public feeling of failure as her community – both religious and secular – was watching and seemingly judging her every move. Raising her only son Solo alone became the main focus in her life and something she needs to do correctly when everything else has failed her. This mother-son relationship, however, has its limits.  
Persaud tightly packs an abundance of emotions into this novel where laughter, anger, and tears were freely expressed throughout. Evenly impressive is Persaud's use of food throughout the novel as a love language between friends and family. Detailed descriptions of how to create some of the Caribbean's most famous dishes litter the story, and always during a time when a character needs comfort the most. After one of Mr. Chetan's heartbreak, Betty cooks oil down for her "darling doux-doux" and tells him how: "I cook the breadfruit with the dasheen spinach and plenty pigtail but I put in two things you mightn't use. When I'm throwing in the seasonings and the coconut milk, I add a Maggi cube. Yes, a simple little Maggi cube. Then, five minutes before it's ready, I stir in a tablespoon of Golden Ray margarine for color and flavor."
The novel also boldly addresses Caribbean homophobia, toxic love, and mental health. Her son's trip to the U.S. and subsequent overstay as an illegal immigrant brings to the surface the less talked about effects of the mental health of young Caribbean immigrants. In this novel, migration wasn't the result of a desire to pursue the American dream, as much as it was a need for a young man to escape a life he couldn't bear with his mother. Though subtle at first, Persaud gives readers a glimpse into the abyss in which a young person can find themself in this chase for freedom from someone who may have loved them too much. Solo, though a relatable young character, felt like there should have been a bit more insight into his rage against his mother and his need to look for that fatherly love in Mr. Chetan and then in New York, with his uncle. 
Love After Love brazenly elucidates the crime situation, especially against homosexuals, that permeates the small country of Trinidad and Tobago. Peraud's inclusion of Mr. Chatan's trials as a gay man looking for love in a country where being who he is can get him killed or arrested, with the former more likely to occur before the latter, was a shrewd way to hold a mirror up to society. A beautiful island generally governed by the laws and social construct of colonialism need that second look even today. Mr. Chetan suffers silently knowing that to live and love freely in this world means that his life is constantly in danger: "I never do anybody a thing but simply being me is illegal, immoral, and perverted," he says. He is consistently forced to neuter his private life which poses a mental threat to his well-being. 
Persaud's use of dialogue and internal monologues is captivating. Line after line tugs at the heart in different ways. But one of the lines with the most staying power came from Mr. Chetan questioning his life choices after deciding to have a clandestine one night stand to mend his broken heart. "People won't stop to think we're only in the dark hiding because we aren't allowed in the light," he says, leaving the line to linger heavily before the next scene. 
Most notably, the use of the Trinidadian dialect throughout gave the novel a comfortable feeling of being told a story by a friend over a cold beer while enjoying the ocean breeze at Maracas Bay. Persaud's language, quick and sharp, possesses a rhythm that carries every word to a different height and allows the cadence of the Trini vernacular to wash over the page without missing a beat. It's a strong reminder of Sam Selvon's The Lonely Londoners – witty, insightful, raw, and real such as "Time to gather up Mani and everything to do with him, with my family, the whole jahaji bundle," a line from Mr. Chatan when he found the strength to move on from an unrequited relationship.
This is a great novel to read at this time, given the spurt of race and class-related divisiveness throughout the world recently, including in the author's own homeland of Trinidad and Tobago. Persaud's inclusion of the mix of religions – Christianity, Hinduism, mysticism – food culture, and social mores that make Trinidad and Tobago the mixup like callaloo, cosmopolitan island it is, strikes a chord of unity. 
Love After Love is storytelling at its best and touches on an age-old question of "What makes a family?" Persaud is a perspicacious writer and gives us the answer in this resplendent novel. A must-read. 
About the reviewer: Keishel Williams is an SPJ Mark of Excellence Award winner, arts & culture journalist, and freelance writer. Her work can also be found in LitHub, Rumpus, BET Digital, Trinidad & Tobago Guardian, Atlas Obscura, and more. She recently earned a Master's degree in journalism at the Craig Newmark Graduate School of Journalism at CUNY.