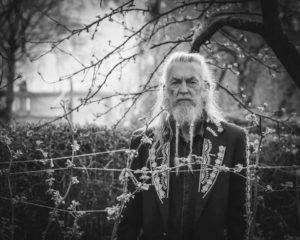 Interviewed by Lorraine Currelley
 
"Ron Whitehead is a real visionary. Ron Whitehead, out there in Kentucky, is sowing the dragon's teeth of a new heroics. Ron Whitehead is Bodhisattva in Kentucky." –Lawrence Ferlinghetti
"I have long admired Ron Whitehead. He is crazy as nine loons, and his poetry is a dazzling mix of folk wisdom and pure mathematics." –Hunter S. Thompson
Poet, writer, editor, publisher, professor, scholar, activist Ron Whitehead is the author of 24 books and 34 albums. 
He has presented thousands of readings and performances around the world. He has produced thousands of poetry, music, and art events, festivals, and 24, 48, 72, & 90 non-stop music & poetry Insomniacathons across the USA and in Europe. He has edited and published hundreds of titles. 
Ron Whitehead grew up on a farm in Kentucky. He attended the University of Louisville and University of Oxford. As a poet and writer he is the recipient of numerous state, national, and international awards/prizes including The All Kentucky Poetry Prize, The Joshua B. Everett Scholar Award & English Speaking Union Scholarship to study 20th Century English Literature at the University of Oxford's International Graduate School with Dr. Valentine Cunningham, Head of English Literature at Oxford, The Yeats Club of Oxford's Prize for Poetry. In 2004, Ron was inducted into Ohio County High School's Hall of Fame, representing his 1968 graduating class. In 2006, Dr. John Rocco (SUNY/Maritime) nominated Ron for the Nobel Prize in Literature.
Ron has over 20 years teaching experience as Writer-in-Residence and Professor of English, Humanities and Writing at the University of Louisville, St. Catharine College, Bellarmine University, Spalding University, Jefferson Community College with additional experience lecturing, presenting papers, and chairing sessions at national and international literature symposiums at University of Iceland (Reykjavik), University of Nijmegen (The Netherlands), University of Braga (Portugal), Trinity College (Ireland), New York University, Hofstra University, University of Jyvaskyla (Finland), and many others.
His work has been translated into 20 languages. In 2018 Louisville Mayor Greg Fischer presented Ron with a Lifetime Achievement for Work in The Arts Award. In 2019 Ron was named Kentucky's Beat Poet Laureate and was also the first U.S. citizen to be named UNESCO's Tartu City of Literature Writer-in-Residence.. He is co-founder and Chief of Poetics for Gonzofest Louisville. Outlaw Poet: The Legend of Ron Whitehead documentary will be released by Storm Generation Films/Dark Star TV in 2021.
Interview Questions:
Were you always interested in becoming a writer, specifically a poet? 
Here's the story of how I became aware that I was a poet: 
Hiawatha
Mama and Daddy are here in the kitchen with Mama's parents,
Mamaw and Grandaddy, and some of their kids, my Aunts and Uncles:
Adeline, Linda, Kendall, Becky, Donna, Danny Boy, Stevie, and
Timmy. Muscle and our sisters Paddy and Edie. Edie's four months old.
Friday night. Daddy's home from the mines. November 1957. I
turned seven yesterday, Thanksgiving Day. My relatives are visiting
from Louisville. I'm excited by all the family energy: by the laughing,
the loud conversation, the singing. We love music. There are many
singers and musicians in our family. Mama and Grandaddy are singing
THEY CUT DOWN THE OLD PINE TREE. Grandaddy is playing the ukulele.
Daddy asks me to recite the TREE poem. I'm shy in certain situations
but I finally find the courage.
TREES by Joyce Kilmer
I think that I shall never see
A poem lovely as a tree.
A tree whose hungry mouth is prest
Against the earth's sweet flowing breast;
A tree that looks at God all day,
And lifts her leafy arms to pray;
A tree that may in Summer wear
A nest of robins in her hair;
Upon whose bosom snow was lain;
Who intimately lives with rain.
Poems are made by fools like me,
But only God can make a tree.
I spend most of my time in nature and feel close kinship with trees
so I memorized TREES right after I first read it. Everyone is clapping
and yelling. The kitchen is full of family. People fill the two doors, one
leading to the utility room and the other to the living room. They're
leaning in, looking over shoulders, to see and hear. I turn to Daddy.
Do HIAWATHA
I say. I love that poem and I love to hear Daddy recite it.
The Song of Hiawatha
part XXII
Hiawatha's Departure
By the shore of Gitche Gumee,
By the shining Big-Sea-Water,
At the doorway of his wigwam,
In the pleasant Summer morning,
Hiawatha stood and waited.
All the air was full of freshness,
All the earth was bright and joyous,
And before him, through the sunshine,
Westward toward the neighboring forest
Passed in golden swarms the Ahmo,
Passed the bees, the honeymakers,
Burning, singing in the sunshine.
Bright above him shone the heavens,
Level spread the lake before him;
From its bosom leaped the sturgeon,
Sparkling, flashing in the sunshine;
On its margin the great forest
Stood reflected in the water,
Every treetop had its shadow,
Motionless beneath the water.
From the brow of Hiawatha
Gone was every trace of sorrow,
As the fog from off the water,
As the mist from off the meadow.
With a smile of joy and triumph,
With a look of exultation,
As of one who in a vision
Sees what is to be, but is not,
Stood and waited Hiawatha.
Daddy knows the entire poem but he just quotes the last section
tonight cause it's a long poem and others are gonna sing and play.
Everyone is spellbound by the music of the poem. I've seen TV and
movie westerns but HIAWATHA helps me look deeper into what I
imagine the Indians to be like. Why are they called Indians I wonder.
What are they really like? This is a special moment here now listening
to Daddy tell the poem, seeing everyone pay close attention, listening to
the story. I'm waking up to a new mystery. To many mysteries. I want
to know about the lives of these strange people everyone calls Indians.
Why do I feel close to them?
I realize now that I'm a poet. I'm not sure what it means but my heart
knows and that's enough for now. Daddy is a farmer and a coal miner.
He's worked all his life for Peabody Coal Company and has never
missed a day of work. He's the strongest hardest working man I've ever
known. Daddy loves poetry. He knows many poems by heart. He
encourages me to learn poems and I do. I already know quite a few.
Daddy always asks me to do WORD POWER with him when the
READER'S DIGEST comes in the mail. Words, poems. The spirit
in poetry brings Daddy and me close. My heart grows big. I hold
back tears. I am thankful.
What was life like growing up?
Mama killed chickens. She popped their heads off. Put her foot on
the little hen's head, grabbed its legs and jerked hard. The head
just laid there on the grass while the little chicken body went flopping
all over the yard. Us kids ran like crazy dodging chicken blood. I liked
it better when Mama took the .22 rifle to the barn and would shoot a
little hen off the high rafter up near the top of the barn where the
chickens all roosted. Mama was a good shot.
One Christmas Eve there was a terrible storm. Daddy was off at
the mines. Mama said "come on" and all us kids piled into the back
of the old pickup truck. Mama had the shotgun. We drove slow through
the storm with Mama looking all round then she pulled over and said
"come on." We followed. We walked a ways until we came up on a
tree, a cedar tree, and Mama said "get behind me." We did and she
took aim and shot the tree in the trunk with both barrels. Blew it clean
in two. Mama said "y'all get the Christmas tree and come on." Us kids
let out a yell! We were so happy cause Christmas had finally come.
Globally we are faced with the Coronavirus pandemic aka COVID-19. It has impacted, changed and challenged how we now move in the world. Has COVID-19 impacted your personal and creative life? If yes, how? How are you navigating what is referred to as our new normal? 
Nearly four decades ago I started building the bridge from where I was to where I wanted to be. I worked three jobs and went to school full time while helping to raise three children. I slept three hours each night. I drank 15-20 cups of coffee every day. It took me eight years to build the bridge. But I did it. And I've been living and being my dream ever since. Nothing compares. The pandemic has changed all our lives. I haven't been able to travel, give talks, readings, performances, tours. Yes, I've done Live Streaming events but it's simply not the same without the open hearted in person energy exchange of Live Events. So I've turned my full attention to producing new creative works, many in collaboration with creative artists around the world. By the end of 2020 I will have released five new books and three new albums, all collaborative projects. I love collaborating with folks. I'm better and busier than ever. Loving every minute of it. But yes you better believe I'll be relieved when the pandemic is over and I can travel and have in person contact with folks all over the world. And my heart goes out to every person on the planet who has lost a loved one or who has experienced ill health as a result of COVID-19. I hear many folks saying they won't take the vaccine. I'll be one of the first in line to get my shot. I'm ready to get back into full throttle action. 
How would you describe your writing, music and visual art style? 
Wide open. Waking and sleeping dreams and visions are gifts from the creative forces of the universe. I honor them by doing all I can to help them reach fruition. Heart is the truth tester. I listen to my heart. I go where my many muses guide and direct me. I employ every style. But more than anything I choose to be my own original voice. 
You are the editor for the book and double cd From the Ancestors: Poems and Prayers for Future Generations. Please share with our readers the roots of this project and what impact you hope it will have on our global community. 
We are the voices of the past
We are your ancestors
We speak from a time of global disease
We speak from a time of protests
We speak from a time of political upheaval
We speak from a time of addiction
A virus killing in mass
Silence in the empty streets
Until the protests begin.
The disenfranchised roar
Governments against the people
Police against the people
Military against the people
Race against race
Religion against religion
Institution against institution
Ideology against ideology
Gender against gender
What is touted as progress
What is touted as prosperity
Comes at the cost of clean air
Comes at the cost of fertile land
Comes at the cost of clean water
Comes at the cost of all life
We are the voices of the past
We are your ancestors
We speak from a time of global disease
We hold the future in our hands
We hold the line for your freedom
We hold strong for a world where all life is cherished
We hold you in our hearts
We hold the Earth as sacred
It is your Earth we steward
We hold our failures to the light for healing
We are healers in a time of global disease
With love in our hearts
With peace in our hearts
We are your ancestors
We love you
Ron Whitehead and Gabriel Walker
We welcome everyone everywhere to enjoy the poems, songs, prayers, and blessings in From The Ancestors: Poems and Prayers for Future Generations. May you be uplifted and inspired, comforted and healed, and awakened to the fact that we all have a river of creative fire forever flowing through us. Find your dream. Take one step at a time and build the bridge from where you are to where you want to be, to living and being your dream. Thank you!
The book, ebook, and double album feature work by:
Joy Harjo, Oklahoma/USA
Anne Waldman, NYC/USA
Dr. Hilaria Cruz, Oaxaca Mexico/USA
Doris Kareva, Tallinn Estonia
Birgitta Jonsdottir, Reykjavik Iceland
Tanya Lind, Iceland
Iris Lican, Sintra Portugal
J. M. White, Tennessee/USA
Jaouad El Garouge, Morocco,
Thomas Attar Bellier, Paris France
Aprilia Zank, Germany
Chryssa Velissariou, Greece
Andy Willoughby, England
Vesa Lahti, Finland
Al Paldrok, Parnu Estonia
Frank Messina, New Jersey/USA
Brian Hassett, Canada
Amber Lee, NYC/USA
Aurelia Lassaque, France
Giulio Tedeschi, Italy
Wilfred Hildonen, Norway/Finland
Lee Pennington, Kentucky/USA
Greta Render Whitehead, Kentucky/USA
Bengt O Bjorklund, Sweden
Jeanette Aslaksen, Sami/Norway
Rani Whitehead, USA
Theo Dorgan, Ireland
Eugenio Antonio Mayor Mendez, Cuba
Seda Suna Uçakan, Turkey
Lorraine Currelley, NYC/USA
Gabor Gyukics, Hungary
Julie Easley, England
Eduardo Ritter, Brazil
Thurston Boswell, Indiana/USA
Ron Whitehead, Kentucky/USA
In this breathtaking anthology, thirty-five poets, musicians, singers, healers, curanderas, and shamans from twenty countries transmit messages of inspiration, hope, and love in seventeen languages for future generations. 
From The Ancestors: Poems and Prayers for Future Generations is available in book, ebook, and double album via the http://www.fromtheancestors.com website. 
Books and ebooks are also available on Amazon. The double album, Volumes 1 & 2, 40 tracks are available for download on Youtube, Apple Music, Spotify, Amazon, Tidal, and all other major streaming services.
Also order Books and double CDs from PayPal, tmopinsight@yahoo.com. Books are $15, CDs are $15 each or $20 for Volumes 1 & 2. Add $5 for USA shipping and $25 for overseas shipping.
Do you have any advice for emerging and future generations of writers? 
The School of Hard Knocks is The Best School of All
14 Suggestions for Aspiring Poets and Writers
1) Join a writing group. Outgrow it as soon as possible.
2) Dig deep into your childhood. Write the best and the worst memories. Embrace your past. Be an autodidact. Teach yourself. The School of Hard Knocks is The Best School of All! Learn everything you can about everything you're interested in. Learn things you don't even want to learn, things that are uninteresting but are related to your poem your story. Read everything you can get your hands on.
3) Take classes classes classes on literature, poetry, prose, and on writing.
4) Master grammar and scansion, the terrible mechanics of prose and poetry.
5) Be a master skeptic. Doubt yourself and everyone else.
6) Be a master believer. Believe in yourself and nearly everyone else.
7) Submit submit submit your work to every publication under the sun and moon.
8) You're gonna get rejected. A million times. Get used to it.
Suck it up. Develop your will power. Quit whining. Be strong!
9) Gather your poems and stories into book manuscripts and send them to publishers and when you're rejected publish your own work.
10) Read read read your work out loud in private in public at open mics read read read your work out loud to dogs cats birds people to anyone and everyone.
11) Entertainment is central! Captivate your audience! Do you want to be bored by someone reading their poem their story?! Hell No! Put all the energy you have into your reading. Sing your work. Even if you can't carry a tune sing your work out loud. Listen for the rhythm. Get rhythm. Build music into your poem your story. Poems and stories are dancing songs.
12) Listen. Listening is the greatest art of all. By listening to others and to yourself as you read your work out loud you will become a better writer a better editor.
13) On the darkest stormiest night of the year take everything you've learned and get in a car and drive as fast as you can along the coastline with a deep cliff falling down to the pounding ocean and throw everything you've learned out the window while screaming as loud as you can "Farewell!" "Goodbye!" then go your own way and start anew. Be your own original voice.
14) Never give up!
"Ron Whitehead, in the gardens of The Karl Ristikivi Museum, his residence during his Tartu UNESCO Writer-in-Residency, April & May, 2019. Tartu, Estonia." Photo by Jinn Bug.