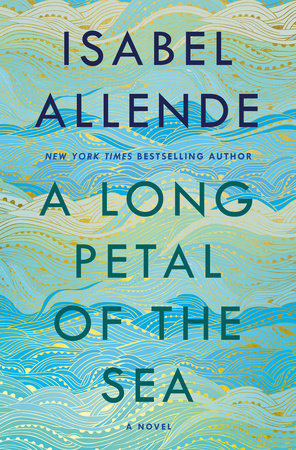 Reviewed by Ruth Latta
A Long Petal of the Sea
by Isabel Allende
Translated by Nick Caistor and Amanda Hopkinson
Ballantine Books
Hardcover, Jan 2020, ISBN 9781984820150, 336 Pages
Isabel Allende's first novel, House of the Spirits, was published in 1982 and won critical and popular acclaim. In the almost forty years since, she has written twenty-four books which have become international best sellers. Her latest, A Long Petal of the Sea is an historical novel , a tour de force which takes readers through two struggles for democracy and social equality: that of the popular front government elected in Spain in 1931, and that of the Salvador Allende administration in Chile, 1970-73.
Isabel Allende, who now lives in California, spent her youth in Chile. One of her major sources for this novel was Victor Pey, (1915-2018) an engineer who came from Spain as a refugee to Chile in 1939. He became an advisor to Salvador Allende's popular front government. He and many other Chileans including Isabel Allende, her first husband and her two children, sought asylum in Venezuela after the military coup of 1973. In Venezuela, Isabel and Pey met, and he told her about his experiences in the Spanish Civil War and on the Chile-bound refugee ship, the Winnipeg.
"It is only now… that I can tell [the story]," writes Isabel Allende in her acknowledgements. "This is a novel but the events and historical individuals are real. The characters are fictional, inspired by people I've know… The book wrote itself, as if it had been dictated to me."
The title, A Long Petal of the Sea, is Pablo Neruda's description of his native land in one of his poems. Neruda (1904-1973) also had a career in the Chilean diplomatic corps, culminating with the ambassadorship to Paris. Ms. Allende begins each chapter with a quote from his work.
Ms. Allende educates while entertaining her audience. The average reader may choose the novel for its exploration of human relationships, but will also learn about the Spanish Civil War and the coup d'etat in Chile in 1973. Whether she is depicting impromptu heart surgery on the battlefield, the explosion of culture among refugees aboard the Winnipeg, or the social mores of upper class Chilean landowners, Ms. Allende's writing is vivid, graphic and compelling.
Writing as an omniscient narrator, the author is free to narrate, describe, and dip into the consciousness of each character. Her two principal characters are Victor Dalmau, a doctor, and Roser Bruguerra, a musician. The novel opens with Victor, a third year medical student, performing an operation at a front line hospital. Barcelona-born Victor volunteered in 1936 to defend the elected liberal-left reform-minded government of Spain (also known as the "Loyalist" or "Republican" cause) after General Francisco Franco staged a military uprising bent on turning the clock back.
Victor's family includes his father, a music professor; his mother, a teacher; his younger brother Guillem, fighting for the Loyalists near Madrid; and Roser Bruguerra, a talented young female piano prodigy who lives with his family. In 1938, when the novel opens, the Loyalists are losing the war. The support they have received from the Soviet Union and international volunteers is no match for the military aid Franco receives from Nazi Germany and Fascist Italy, while Britain and France stay neutral. When Victor gets leave to visit his dying father, his father tells him that their side will lose and that the reprisals will be terrible. Victor promises to get his mother, Carme, and their protege, Roser, out of Spain. Shortly after the elder Dalmau dies, Guillem returns home ill with typhus. He and Roser fall in love and when he is well enough to return to the war, Roser is pregnant.
Readers who know Ernest Hemingway's classic Spanish Civil War novel, For Whom the Bell Tolls, will find that Isabel Allende presents a broader view, showing characters at various social levels. Through Roser, for instance, she shows the need for land reform. As a seven year old goatherd, Roser was rescued from the abject poverty typical of rural serfs on large estates run by landlords including the Roman Catholic Church.
When it becomes clear that Franco's fascists have almost seized control of the country, Victor, his mother and the very-pregnant Roser join the flow of refugees toward the French border. Carme slips away from the camp one night and disappears, reappearing much later in the story. Victor, who must return to give medical aid, places Roser in the care of an ambulance driver and smuggler, Aitor Ibarra, who takes her on the gruelling mountain journey across the Pyrenees into France to a refugee camp. This camp at Argeles sur Mer, on a beach, lacks shelters or hygiene facilities, and for weeks the refugees are exposed to the elements, with thirty to forty dying daily. When the Red Cross finally arrives, Roser gets a message to Victor's friend, Elisabeth Eidenbenz (a real person), who rescues her and finds her a home with a Quaker couple where she gives birth to Guillem's son, Marcel. When Victor arrives at the camp, he locates Roser and learns that the Chilean government is willing to accept refugees with skills useful in Chile. As a doctor, he's in demand, but he finds he can't bring his brother's girlfriend and son because they are not "immediate family", so he proposes to Roser, who agrees to a marriage of convenience. He is attracted to her, but she is still in love with Guillem.
Pablo Neruda is the Chilean diplomat in charge of arranging the departure of asylum seekers. The Dalmaus are three of over two thousand refugees who arrive at their destination in Chile the day World War I begins.
In presenting Victor's and Roser's struggles to get settled in Chile, Ms. Allende introduces another family, the del Solars, who contrast with the Dalmaus and create a sub-plot. A young Chilean lawyer, Felipe del Solar, is interested in the refugees and rides with some of them on a train to Santiago, where he strikes up an acquaintance with the Dalmaus. The son of a wealthy wool producer, Felipe is a rebel in so far as he belongs to an intellectuals' club and has his own home. He invites the Dalmaus to stay there until he gets settled, and introduces Victor to Chile's deputy minister of health, Salvador Allende (a real person and a first cousin of Isabel Allende's father), who gets Victor into medical school. Soon Victor is a student working part-time as a bar-tender and Roser is keeping the books, teaching music, and providing music at upper class social events. At the del Solar's Christmas Party, Felipe introduces the Dalmaus to his family, including his nineteen year old sister, Ofelia.
A proud feminist, Isabel Allende always includes in her novels strong women like Roser and other women suffering oppression under patriarchy. Ofelia is in the latter category. Her parents want to marry her to a young consular clerk, but she isn't ready for the role of wife, mother and hostess. She and Victor experience an instant attraction. Though good friends and confidantes, Roser and Victor are living as brother and sister, because Roser is loyal to Guillem's memory and cherishes the hope that he may not have died.
Having come of age in the liberal social milieu of Republican Spain, Victor never dreams that Ofelia is a virgin. Despite Roser's warning that it will come to no good, Victor and Ofelia manage to have an affair with the help of the family chauffeur. Then, abruptly, Ofelia breaks things off. Victor has no idea of her real reason for ending their relationship, but in fact Ofelia is in a predicament that puts her under the power of her despotic father, weak mother and unscrupulous family priest. Although she survives, she is damaged.
The relationship between Victor and Roser becomes intimate, then an open marriage, but as time passes they become faithful and inseparable. By the 1970s, when their lives are about to change drastically, again, he is an established cardiologist at a public hospital and she is a music professor, collaborating with a Venezuelan diplomat in an international ancient music orchestra. Their son is a geologist working for a copper company. Throughout the years, Victor has been the chess partner and friend of Salvador Allende
In 1970, sixty-six year old Pablo Neruda lets his name stand as one of the candidates for the presidency of Chile, representing the socialist party. Large crowds all over the country come out to hear the famous poet. Midway through the campaign he withdraws, for he has run to pave the way for another candidate. He swings his support to Salvador Allende, who wins more votes than any other candidate.
Through the eyes of Victor Dalmau, but of course, through her own as well, Isabel Allende presents a fascinating picture of President Allende, her first cousin once removed. Salvador, she writes, wanted "a Chilean path to socialism", a peaceful revolution. He was convinced that "there was plenty of room for the revolution within the solid Chilean democracy and he respected the constitution" and disliked leftist extremists who called for a Cuban style revolution. As Roser tells Victor, Salvador Allende "isn't Gandhi". He enjoyed good clothes, art and the company of women. His favourite relaxations were watching Western movies and playing chess, so Victor accompanies him on his campaign as his doctor and chess partner.
Though crowds greet Salvador Allende's election victory with an outpouring of enthusiasm, there is uneasiness too, not only among the rich, like the del Solars, who are waiting for the "Marxist hordes" to invade their upper class neighbourhood, but also among the Spanish refugee community. Carme, Victor's mother, who survived the Spanish Civil War and has joined her family in Chile, says, "We've already lived this in Spain… I just hope it doesn't end as badly as it did over there."
But it does. "North America", writes Isabel Allende, was determined to overthrow Allende's government. Salvador Allende nationalized the copper mines because their North American owners owed Chile billions of dollars from excessive profits and tax evasion, a move that the public supported but that business and the aristocracy did not.
"Opposition sabotage created shortages," Ms. Allende writes, but the poor were happy because they felt "represented and equal" and because scarcity and rationing were nothing new to them. But the United States government was funding the opposition, anti-government violence became rampant, and on September 11, 1973, a military coup led by General Augusto Pinochet seized power and unleashed a rein of terror.
"The deep Chile of the fascists had always been there, beneath the surface, just waiting to emerge," says Victor.
Through Victor, Isabel Allende shows the thousands of prisoners who were tortured, imprisoned in the hot overcrowded National Stadium and shot on the slightest pretext. She vividly depicts the concentration camp to which he was sent.
Pablo Neruda once wrote: "If nothing saves us from death, at least love should save us from life." In A Long Petal of the Sea, Isabel Allende's characters are saved from despair by love, friendship and the satisfaction of helping others. Is she suggesting that history repeats itself and that a democracy with social justice and economic equality is an impossible dream? I think not. I believe she would agree with another line from Neruda's poetry: "You can cut all the flowers but you cannot keep spring from coming."
About the reviewer: Ruth Latta is the author of four historical novels set in Canada, and is working on a fifth, this one set during the Great Depression of the 1930s. For more information about her books, visit http://ruthlattabooks.blogspot.om