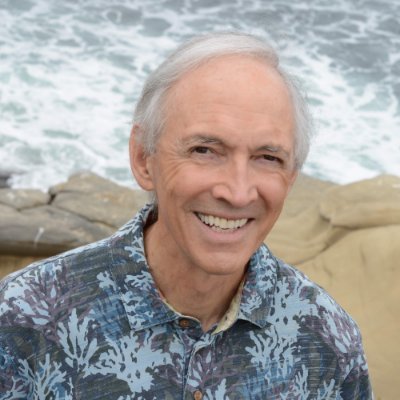 Godfather of Green is an unusual memoir in that it combines both inner spiritual experiences and contemplations with your outer work as an environmentalist. Why did you decide to write it that way?
The most important influence in my life was meeting a powerful Indian spiritual master, Baba Muktananda, just after I turned 30. Beyond the immediate inner awakening that I discuss in the book, I had an opening of the heart that continues growing until the present day. That first encounter with a Siddha Guru, a perfected master of life, led to my commitment to a practice of meditation and mindfulness. After the first Earth Day in 1970, I had committed myself to a life of outer activity, a career path, to protect the environment, but the long-term commitment to a spiritual path, to a voyage of inner discovery, added new insights and unexpected dimensions to this work.
Why did you decide to include the spiritual side of your life?

Many years ago, I read one of Carlos Castaneda's books about the powerful Yaqui Indian shaman, Don Juan Matus. In that book, Don Juan tells Carlos that he cannot finish his life's journey without a serious reckoning of what he has done with his time on this beautiful planet. When I decided to write the memoir, I knew that I had to include both elements of my life: spiritual practices and environmental work. What I didn't expect was that the work of writing a life memoir would be such a deep and transforming experience, a journey of self-realization that uncovered many aspects of my life, signal events that changed me, forced me to make radical changes in how I lived, and that pushed me into new directions.

What is the core message of the book?
In studying and practicing yoga and meditation, I had to imbibe to Baba Muktananda's core teaching: there is no difference between God and the world. He taught us to see God in each other and insisted that our worldly work would not be an obstacle to inner growth, so long as we offered it as selfless service. BUT I also learned that if I wanted to change the world, I first had to change myself. That's where conflicts lie, when one situation after another challenges the ego, the carefully honed persona that we all carry aboard the ship of life and guard it as we would our luggage on a long ocean voyage.
What did it mean to "change yourself?"
The first thing it meant is that I had to confront my motives: was I was acting to protect the environment in my work out of ego or as an offering of selfless service? Was I dealing with other people from a standpoint of love and of recognition of their intrinsic worth or only as a means to get what I wanted? It meant to open myself up to the wisdom of the heart, to trust my intuition more than my intellect, to live in a more spontaneous and natural way. Changing yourself is, for all of us, the work of a lifetime, but the rewards of inner peace, love for and from others, spontaneous joy of living each day as a precious gift of the divine, are immense.
How does the book relate to the climate crisis?
Many people want to act NOW to prevent the worst effects of global climate change, and rightly so. And as we've learned already from our responses to the global pandemic, acting sooner rather than later is the best way to mitigate the worst effects, to "bend the curve down." But most of the current climate discussion focuses narrowly on politics, technology and economics. We have yet to confront the fact that our entire global civilization is based on a fundamentally unsustainable economic model that many have labeled "take, make, and waste." Fundamentally, we must change our mindset from one of exploitation of Earth's resources to a willingness to live sustainably within ecological limits. That vision requires a different vision, a new understanding. In this book, I show how each of us can take a deeper spiritual understanding into the fight against global warming and environmental destruction.
In the Epilogue, I wrote an open letter to today's young climate activists, in the spirit of Earth Day, urging them to prepare themselves within and without to fight this climate emergency with all their resources, with their love and inner strength, as well as with their anger at a system that has brought us to this precipice. I pointed out that the most successful political movements of the twentieth century, movements that overcame massive oppression and injustice, came not only from a place of nonviolence, love and compassion, but also from an incredible inner strength – Gandhi in India, Reverend Martin Luther King Jr. in the United States, and Nelson Mandela in South Africa.
Where does meditation and mindfulness come into the discussion?
Fundamentally, we must learn to live with compassion for people and genuine love for the Earth if we want to convince most people to agree to do what's necessary to combat the climate crisis. This work is as much spiritual as political, as much with changing our society's way of relating to the natural world, of changing centuries-old thinking that sees the natural world only as resources ready for exploitation. We must acknowledge that we are all in this together; that there's no "Planet B" to which a few billionaires can escape, as they once did to the countryside during various plagues. Without a dedicated inner practice, I think it will be hard to keep a positive outlook over the coming decades and to do the work needed to turn around our disastrous direction.
Are you happy with the book?
I think every memoirist feels that they could have written a better book, a shorter book, a more insightful book, but I like the way the book alternates between vignettes of environmental history and intimate spiritual and personal experiences. I like the arc of optimism and the message that if you keep trying to make a difference, eventually things line up in a way that you could never have imagined. I wrote a dozen professional books after the age of 60, something I never thought of doing earlier. That led to a global speaking career and eventually to acquiring the moniker, "The Godfather of Green," and to having friends all over the world. When I stopped active traveling and speaking four years ago and had more time on my hands, I decided to take stock of my life and wrote this memoir.
Jerry Yudelson holds environmental engineering degrees from Caltech and Harvard, and an MBA from the University of Oregon. His long activity in the green building movement led to his recognition as "The Godfather of Green," the title he chose for his memoir. He lives with his wife and Scottish Terrier near the Pacific Ocean in southern California.