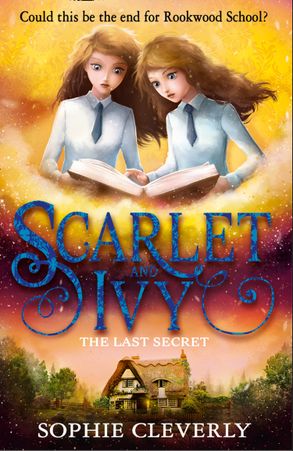 Reviewed by Cleo Scott Huggins
Scarlet and Ivy – The Last Secret
By Sophie Cleverly
HarperCollins
ISBN: 9780008218225, 31/12/2018, 320 page, 16.99 AUD
The Last Secret by Sophie Cleverly is the sixth book in the Scarlet and Ivy series and is definitely the best Scarlet and Ivy book! I would recommend this book for girls aged 12 – 15. This book is scarier than the other books in the series, so it requires an older reader.
The identical twins, Scarlet and Ivy, inherit a jewellery box from their deceased mother, which contains an important piece of information about their school, Rookwood Boarding School.
Henry Bartholomew is the son of a former, murderous, evil headmaster of Rookwood who had claimed ownership over the school. With the death of his father, Henry now owns Rookwood. The students and teachers of Rookwood do not trust Henry and want him gone. With the new information from their mother's jewellery box and the formation of the new Whispers in the Walls group to gather information, the twins have what they need to get rid of the Bartholomew's once and for all.
As well as trouble intensifying at school, Scarlet and Ivy are also faced with deep trouble at home, including attempted murder and near-death experiences.
The moral of this story is that even if things are bad at the moment, they won't be bad forever. I think this is a really important message with a large impact. As the title suggests, the major theme in this book is secrets.
Sophie Cleverly is very descriptive. When I read her books I feel like I am watching a Scarlet and Ivy movie. To get the most out of this book, I would recommend reading the entire series from book one, which is The Lost Twin, which I highly recommend as well. As with the other books in this series, I loved everything about The Last Secret. Rumour has it that this is the last book that Sophie Cleverly will write in the Scarlet and Ivy series, which saddens me, as I loved the series.
About the reviewer: Cleo Scott Huggins was Commended in the 2019 Hunter Writers' Centre/Compulsive Reader Review competition. She is in Grade 6 and her favourite subjects are novel study, reading groups and writing. Cleo has participated in the Premier's Reading Challenge since she started school. Cleo plays as the Goal Shooter and Goal Attack in her local netball team, which she loves. Cleo's dream is to have a dog and she is yet to know what she wants to be in the future.