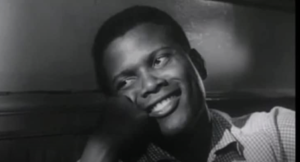 By Daniel Garrett 
Edge of the City 
Directed by Martin Ritt
Metro Goldwyn Mayer, 1956
Released in 1957
In a television motion picture, The Last Brickmaker in America (director Gregg Champion for Paramount/Phase 4 Films; 2001), Sidney Poitier plays an elderly artisan who has a contract to produce bricks for a new library for the school where his deceased librarian wife used to work.  There is doubt that the man, working mostly alone, can complete the contract in time, but he is committed to doing that and soon finds help in a boy whose home conflicts are leaching into his school life.  The elderly black man gives the little white boy a useful discipline, and in that the boy also finds pleasure and deep distraction from his troubles.  The boy's parents welcome the influence, the respite.  It is an example of how an accident, an unexpected meeting and relationship, can change a life, two lives, or more; and it is not the first time that Sidney Poitier has played such a transformative spirit, a man of character and principle and joy.
In many of his roles, Sidney Poitier defied at least two traditions of negativity: that of a broader American public that expected little of men of color, and supported social discrimination and segregation and accepted punitive violence; and that negativity, ironically, even tragically, of those Negroes who insist that others share their despair, hatred, and vulgar enthusiasms, those Negroes who—not understanding the source of the motivation of others nor their complex allegiance to ideals and manners—see individuals of ambition and optimism, or of education and accomplishment, as false, perverse, selfish, traitorous, as demons.  Instead of being inspired by transcendence, some people prefer the large-spirited person become as small as they themselves are. Luckily, the intelligent and dignified Poitier attracted enough of an appreciative, diverse audience to have a very good career in cinema, with such films as BlackboardJungle, The Defiant Ones, A Raisin in the Sun, Paris Blues, Lilies of the Field, In the Heat of the Night, For Love of Ivy, and A Warm December.  Through his work, Sidney Poitier became a representative participant in American culture, and he was connected to the greatest tradition, centuries old—of art, democracy, knowledge, liberty, prosperity, and self-fulfillment.
Distinguished decency was Sidney Poitier's position of default, and he demonstrated that in the theatrical film Edge of the City, a motion picture about conflict among New York City laborers, particularly racial conflict, and corruption: it is about a man, Axel, played by John Cassavetes, who has taken flight from an army assignment and gets a job on a shipping dock through a contact, Charlie, who requires a salary kickback, a portion of his hourly income.  The derelict soldier is a man who was misunderstood and mistreated in his own family, by his parents, though he had a loving brother who died; and the wayward soldier, insecure, nervous, is befriended by Sidney Poitier's laborer, Tommy, who articulates a moral standard of behavior and gives Axel advice about available uptown apartments.  The young, full-faced Poitier is a joking, fun-loving but smart and hard-working man, who is disliked by Charlie (Jack Warden) for his dark skin.  The film demonstrates that friendship is possible despite professional or social barriers, but that stupidity and violence are persistent and can be, for a time, victorious.
In Edge ­of the City, the scenes of a developing relationship between Axel and Tommy—talking in a café, going dancing with Tommy's wife and a young woman schoolteacher Tommy introduces Axel to—are believable and warm.  Tommy helps Axel to see that the imagination can be liberating, and that men can fulfill themselves by their own choices, by their daily behavior.  (The film was called, at one point, A Man Is Ten Feet Tall, with its trailer circulating a 1956 copyright date; and the renamed film was reviewed January 30, 1957 by Bosley Crowther in the Times, with the reviewer finding the film sometimes sharp and searching, and other times too neatly like On theWaterfront.)  It is arguable that in Edge of the City both Tommy and Charlie have coercive tendencies, but to different ends: one good, one evil.  When Axel, whom Charlie both exploits and treats with contempt, refuses to distance himself from the helpful Tommy, Charlie calls Axel "peculiar," another word for queer.  (The film viewer does wonder briefly about the extent to which Tommy has come to replace Axel's beloved brother, and whether eroticism has been part of the preceding or present attachment.)  Charlie learns about Axel's leaving the army without permission, and threatens Axel; and soon Charlie and Tommy have a fatal fight—and Axel at first refuses to talk to the authorities, as the witnessing men claim it was a fair fight, an example of how society and the state can be on different sides of a moral issue.  The black laborers who witnessed the fight are as silent in response to police questioning as the white laborers.
The city in the film is large, but the area that we see most is small, that of men who work with their bodies—and yet the tensions among them are those known to society at different levels, in many countries.  What is the ultimate standard of value?  What is the ideal for maturity; and what is the basis of loyalty; and what are the requirements of justice?  The performances in the film Edge of the City, directed by Martin Ritt, are consistently strong: Poitier is a deeply attractive presence, free, intelligent, loving, moral, sensible; and Cassavetes seems like a precursor of Al Pacino and Robert De Niro, brooding and conflicted, an actor who suggests what it is like to feel trapped by one's own consciousness.  (Pauline Kael praised Poitier's work in her book 5001 Nights at the Movies.)  Ruby Dee as Poitier's wife is perfect, amused and welcoming when appropriate, and hurt and angry and shocked when circumstances bring devastation to her family; and Kathleen Maguire as the schoolteacher-friend has a great moment when she asks Axel to explain his actions, his irresponsibility.  Jack Warden is believable as an ordinary, hateful bastard.  Yet, Edge of the City, like most films, is not admired by everyone.  FilmQuarterly's Albert Johnson, that publication's assistant editor from 1958 to 1961, did note that some people complained of the scenario's sacrifice of Poitier's Tommy for the moral improvement of Cassavetes's Axel ("Beige, Brown, or Black," Fall 1959).  The story that Edge of the City tells is simple, that of a hope raised, broken, and redeemed, but the story is deep, lasting.
Daniel Garrett, a graduate of the New School for Social Research, and the principal organizer of the Cultural Politics Discussion Group at Poets House, is a writer whose work has appeared in The African, All About Jazz, American Book Review, Art & Antiques, The Audubon Activist, Black Film Review, Changing Men, Contact II, Film International, The Humanist, Hyphen, Illuminations, Muse Apprentice Guild, Option, Pop Matters, Quarterly Black Review of Books, Rain Taxi, Red River Review, Review of Contemporary Fiction, Wax Poetics, and World Literature Today.  Daniel, who has written about American and international film for Offscreen, Cinetext, and TheCompulsive Reader, admires classic and modern literature and philosophy, and likes painting and sculpture, French film, Afghan and Indian food, jazz, rock, and world music.